Secret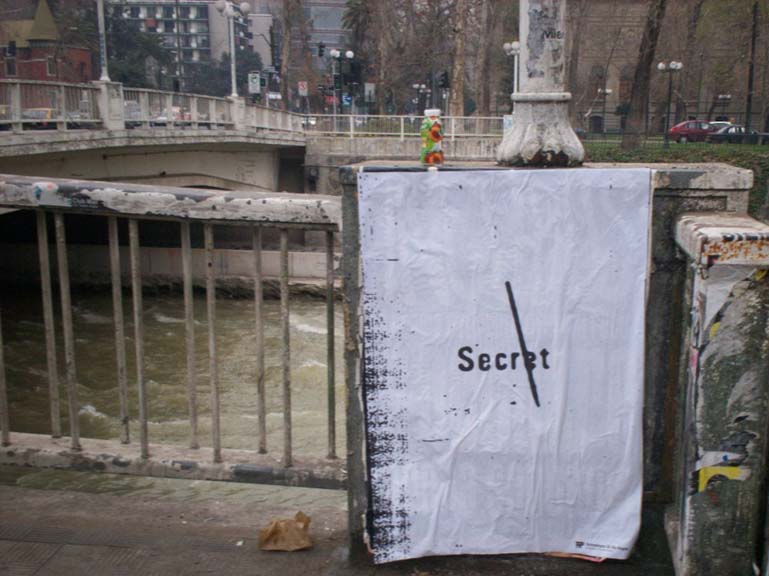 por Valentín Roma, 2007
secret es una propuesta que se integra dentro de las diversas actividades llevadas a cabo por el Archivo Postcapital de Daniel G. Andújar para technologies to the people. Este fondo documental, que recopila más de 150.000 archivos digitales extraídos de la red (textos, secuencias de vídeo, bancos fotográficos, recortes de audio, links a asociaciones independientes, etc.), explora la compleja situación de las ideologías capitalistas y comunistas en el nuevo marco geopolítico resultante tras la caída del muro de Berlín. El Archivo Postcapital se presentó públicamente en la virreina Exposiciones (Barcelona) en el 2006, dentro del contexto de Postcapital, un proyecto multimedia concebido por el ensayista Iván de la Nuez y los artistas Carlos Garaicoa y Daniel G. Andújar.
Diseminado en los más diversos lugares del espacio público, el trabajo adopta una configuración esquemática y voluntariamente ambigua, que consiste en una hoja en blanco, a modo de fotocopia, en cuyo centro aparece la palabra secret tachada. El gesto físico de tachar tiene aquí una resonancia simbólica de liberar, de hacer pública una información que hasta ese momento era privada, abriendo ésta a nuevos usos y a nuevas interpretaciones. En este sentido, Secret podría entenderse como un emblema de la apertura de los numerosos archivos que en diferentes situaciones políticas han ido engrosando ficheros ocultos, documentos secretos y demás material relacionado con la represión política y la persecución de individuos y colectivos. En otro sentido, Secret es también una especie de logotipo irónico acerca de los exorcismos de las distintas sociedades con su memoria; con su pasado y con su futuro; con los arquetipos vinculados a su historia y con los imaginarios, a veces igualmente estereotipados, que éstas pretenden proyectar fuera de sí.
Para facilitar su circulación pública, Secret adopta cinco formatos de presentación distinta que se corresponden con sus posibles usos, sus hipotéticos usuarios y con los diferentes espacios a señalizar. Así, encontramos una edición de octavillas que permiten un intercambio casi aleatorio, una colección de pósters de mayor tamaño que favorecen la injerencia en ellos y adoptan el sentido de un anuncio impreciso, una plantilla de aerosol que facilita una señalización inmediata, un gran grafitti situado en una de las paredes exteriores que delimitan el espacio de Matucana 100 y, finalmente, una pintada ubicada en el interior de la muestra Barcelona Toolbar pero visible, únicamente, a través de una rendija realizada en una de las paredes laterales de la sala de exposiciones. Este itinerario que comienza en el espacio público y termina en el espacio expositivo cierra, en torno a Secret, otro circuito que va desde la diseminación anónima en el territorio descodificado de la calle hasta el reconocimiento en el ámbito protegido e hipercodificado del museo.