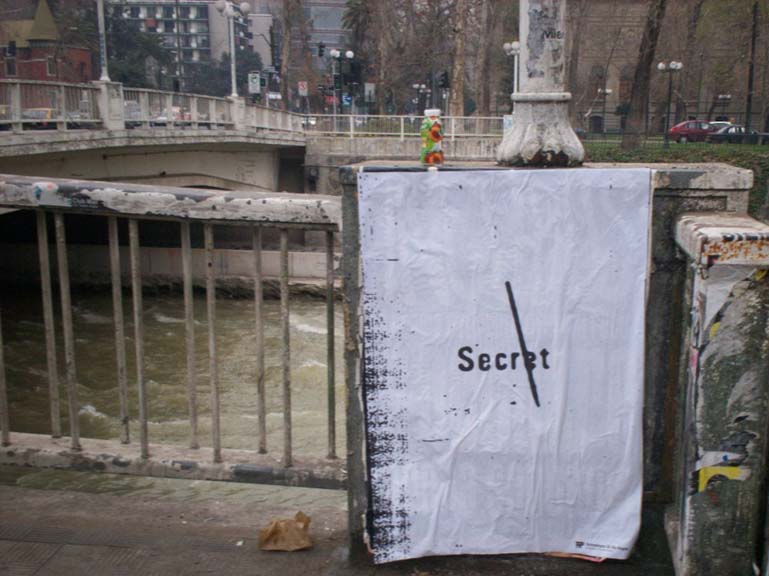 por Valentín Roma, 2007 Secret es una propuesta que se integra dentro de las diversas actividades llevadas a cabo por el Archivo Postcapital de Daniel G. Andújar para Technologies To The People. Este fondo documental, que recopila más de 150.000 archivos digitales extraídos de la red (textos, secuencias de vídeo, bancos fotográficos, recortes de audio, links a asociaciones independientes, etc.), explora la compleja situación de las ideologías capitalistas y comunistas en el nuevo marco geopolítico resultante tras la caída del muro de Berlín. El Archivo Postcapital se presentó públicamente en La Virreina Exposiciones (Barcelona) en el 2006, dentro del contexto de Postcapital, un proyecto multimedia concebido por el ensayista Iván de la Nuez y los artistas Carlos Garaicoa y Daniel G. Andújar.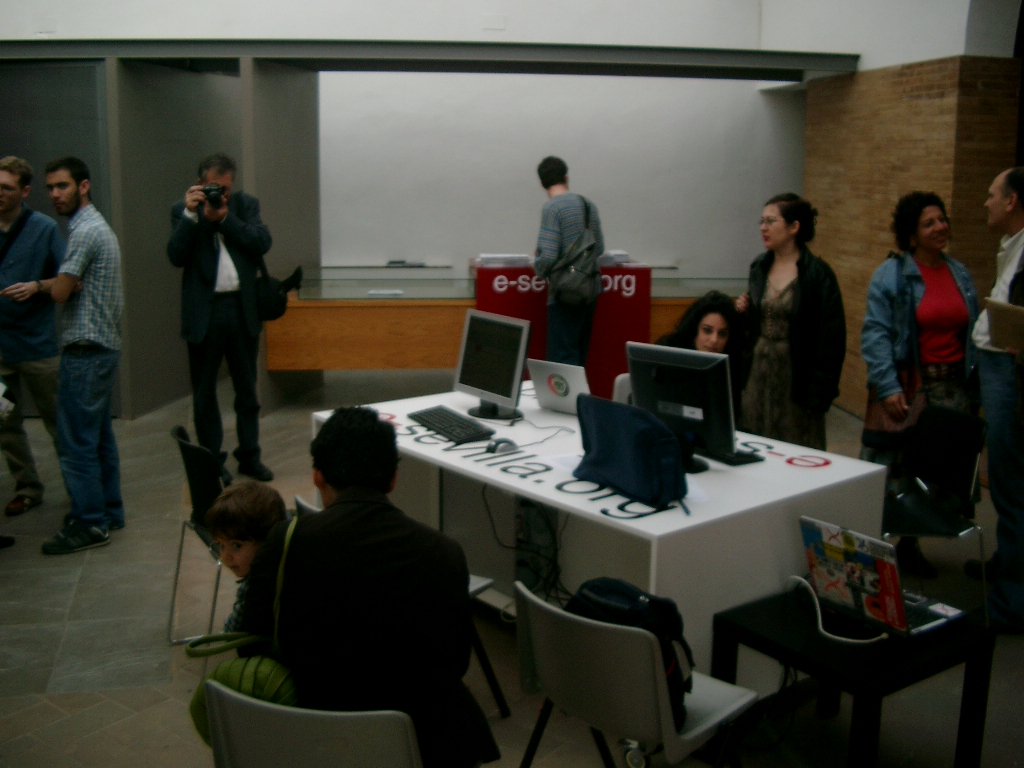 Por Pedro G. Romero En las novelas de Kafka nos salen al encuentro criaturas que se definen como "ayudantes". Sin embargo, no parecen estar en condiciones de prestar ayuda. No entienden nada, no tienen "aparatos", no hacen más que chiquilladas y tonterías, son molestos e, incluso, a veces, descarados y lascivos. En cuanto a su aspecto son tan parecidos entre sí que sólo se distinguen por el nombre; se parecen "como serpientes". No obstante son observadores atentos, desenvueltos y elocuentes, sus ojos son brillantes, y en contraste con sus modos pueriles, tienen caras que parecen adultas, "de estudiantes, casi", y barbas largas y abundantes. Alguien, no se sabe quién, se los ha asignado, y no es fácil quitárselos de encima. En definitiva, nosotros no sabemos quiénes son, quizás son enviados del enemigo, lo que explicaría por qué no hacen más que acechar y espiar. Sin embargo parecen ángeles, mensajeros que ignoran el contenido de las cartas que deben entregar, pero cuya sonrisa, cuya mirada, cuya manera de andar "semejan un mensaje." Giorgio Agamben. El espacio físico que ocupa el caS en la dirección de Torneo 18/San Clemente es, a todas luces, insuficiente a la hora de entender el trabajo de un centro de arte. Para empezar está la dimensión simbólica, aquella que, por ejemplo, le otorga el hecho de situarse en Sevilla, de aspirar a una representación de los distintos presentes que una ciudad invoca. Así, la metáfora del nodo, tomada del lenguaje de la telemática sea quizás la que más conviene para definir la situación de un espacio para las artes en la ciudad. Si se quiere, se trata de un nodo principal, pero al fin al cabo, un enlace más, un punto en la amplia red de lugares y vinculaciones que el centro de las artes de Sevilla debe tejer en la ciudad.
La idea de poner en marcha una herramienta que hiciese posible canalizar y a la vez expandir el debate mantenido por la "Plataforma para la Reflexión sobre Políticas Culturales" (PRPC) es algo que estaba presente desde antes incluso de que adoptáramos este nombre. Y desde un primer momento vimos en los "e-", impulsados por Technologies To The People en diferentes contextos locales, un modelo que se ajustaba en gran medida a nuestras necesidades. Con la puesta en marcha de e-sevilla-org pretendemos proporcionar un espacio permanente y abierto a un debate sobre las políticas culturales de la ciudad, gestado inicialmente a propósito de la BIACS, pero que se ha extendido hacia las prácticas artísticas y culturales en general y que busca implicar a todos los agentes relacionados con los diferentes ámbitos de la cultura.
The idea of setting up a tool which will both channel and extend the debate fostered by the PRPC ("Plataforma para la Reflexión sobre Políticas Culturales" – Platform for Reflection on Cultural Policies) was present even before we adopted that name. Right from the start, we saw the "e-", fomented in different local contexts by Technologies to the People, as a model that was largely adaptable to our needs. With the implementation of e-sevilla-org our aim is to provide a permanent open space for discussion of the city's cultural policies. Initially set up to serve BIACS, this subsequently expanded to address art and culture in general in an attempt to involve all those agents connected with culture in its different disciplines.
por Daniel G Andújar Internet está ineludiblemente ligada a los procesos de cambio estructural y de transformación fundamental de nuestra sociedad que, sin duda, está modificando nuestra forma de pensar, consumir, producir, comerciar y, en definitiva, modificando cada una de la actividades que emprendemos. Nuestros miedos y deseos se proyectan de manera extraordinaria sobre Internet, convirtiéndose en un mítico espacio donde algunos ven reflejarse el futuro de nuestra sociedad. Pocos son conscientes de sus verdaderas capacidades y, sobre todo, de la extraordinaria lucha abierta para que estas capacidades continúen siendo explotadas desde el espacio público. Esto, unido a la controversia entorno a los nuevos límites a la libertad, es sin duda uno de los debates centrales de nuestro tiempo. Los Estados sienten que por medio de Internet se les escapa el control de la ciudadanía. Por otro lado, las grandes corporaciones ven necesario un control más efectivo para desarrollar planes como el del comercio electrónico. En nombre de la seguridad, los Estados diseñan estrategias de control que limitan la libertad de los ciudadanos e invaden derechos individuales fundamentales, como el derecho a la privacidad. El derecho a la privacidad es un derecho básico necesario para la persona, esto, es algo bastante comprensible; es el derecho a que le dejen a uno sólo con sus cosas; es lo que le salvaguarda de ataques contra su intimidad por parte de gobiernos, corporaciones o vecinos cotillas. La seguridad debe de encontrar sus límites precisamente en la inviolabilidad de este y otros derechos civiles. ¿Por qué entonces hay gobiernos empeñados en traspasar esos límites y en restringir nuestros derechos?
Daniel García Andújar, E, 1998 CD-ROM, 50 gerahmte digitale Prints Koproduktion: Hartware MedienKunstVerein Reservate der Sehnsucht, Dortmunder U, 1998 Im Rahmen der Ausstellung "Reservate der Sehnsucht" in der ehemaligen Union Brauerei wurde die von Daniel García Andùjar entdeckte Fotosammlung der einstigen Brauereiangestellten Wilhelm und Manfred Beutel präsentiert. Die Sammlung dokumentiert historische Ereignisse aus Dortmund, die im öffentlichen Bewusstsein der Stadt heute nur wenig präsent sind: die Jahre des deutschen Faschismus sowie die fast vollständige Zerstörung der Innenstadt während des Zweiten Weltkrieges. Der wesentliche Beitrag von Andújar bei der Präsentation der Sammlung bestand in einem eigens entwickelten geografischen Informationssystem, kurz GIS, mit dem sich von jedem einzelnen Bild der exakte Zeitpunkt der Aufnahme sowie der Standort des Fotografen ermitteln lässt.
Daniel García Andújar: The Manfred and Wilhelm Beutel Photo Collection, 1998 CD-ROM, 50 framed digital prints Coproduction: Hartware MedienKunstVerein Reservate der Sehnsucht, Dortmunder U, 1998 In the course of the "Reservate der Sehnsucht" exhibition in the former Union brewery, Daniel García Andùjar presented a photograph collection he discovered. Compiled by the former brewery workers Wilhelm and Manfred Beutel, the collection documents episodes in the history of Dortmund which scarcely figure in the city's contemporary public awareness: the years during the Third Reich, and the almost total destruction of the inner city during World War II. Andújar's main contribution to this presentation was a specially developed geographical information system (GIS) enabling the exact time of shooting, as well as the location of the photographer, to be determined for each picture.