Ver a vuelo de pájaro Barcelona en un mapa más grande Este proyecto requiere participación. A VUELO DE PÁJARO "La ligera paloma, que siente la resistencia del aire que surca al volar libremente, podría imaginarse que volaría mucho mejor aún en un espacio vacío" Immanuel Kant, Crítica de la razón pura (1787) Tomando la metáfora de Kant, podríamos decir que los procesos de participación permiten volar a la democracia, aunque si se truncan o se pervierten, el sistema entero puede estrellarse o no levantar vuelo hacia ningún destino. A vuelo de pájaro, es un evento participativo propuesto por el artista DANIEL G. ANDÚJAR (Almoradí, Alicante, 1966), quién iniciará un vuelo publicitario el domingo 22 de mayo de 13:00 a 14:00 horas. El itinerario arrancará desde La Barceloneta, recorriendo el litoral barcelonés hasta las playas de Badalona. Si estás en uno de estos lugares, el día indicado, puedes participar en el proyecto enviando cualquier tipo de documentación audiovisual del itinerario (y entorno) del vuelo. Tus grabaciones, filmaciones y fotografías, realizadas mediante el dispositivo que prefieras (cámaras, teléfonos móviles, vídeos, equipos de sonido, etc.) serán recogidas en la página web de la propuesta y construirán el fondo documental del vuelo. El cielo también tiene sus plazas. Enviar material: participo@localizacion.org Twitter: #avuelodepajaro http://localizacion.org Flyer Democraticemos la Democracia
Archivo pdf: Democraticemos la Democracia!, Creative Commons Gracias por la participación. Puedes seguir enviando materiales a: participo@localizacion.org
Un proyecto de Daniel G. Andújar / Technologies To The People, 2011 Participa el Día Internacional de los Trabajadores, Primero de Mayo ! Salida del Los Martinez del Puerto, Murcia: 10:00 Llegada a Torrevieja: 10:25 Llegada a Santa Pola: 10:50 Llegada a Alicante: 11:15 Llegada a Benidorm: 11:45 http://www.localizacion.org/
[vimeo]http://vimeo.com/14772793[/vimeo] Xiu-Shui presenta "Postcapital Archive Madrid" del artista Daniel G. Andújar para La noche en blanco La propuesta del artista español patrocinada por Xiu-Shui podrá verse el próximo sábado 11 de setiembre de 2010 en la plaza de Cibeles. Postcapital Archive Madrid es un performance gráfico del artista Daniel G. Andújar producido por Technologies To The People /La Noche en Blanco y patrocinado por la corporación china Xiu-Shui, que tendrá lugar en Las Cibeles, el 11 de septiembre de 2010. Cuenta a su vez con la colaboración de RTVE y Hangar, y comparte espacio y cartelera con la Fiesta de mucho bailar para todas las edades. La propuesta del artista forma parte de un proyecto más amplio: Postcapital Archive (1989-2001), desarrollado desde 2004 que ha dado la vuelta al mundo.
MADRID, 7 Sep. (EUROPA PRESS) -
La V edición de La Noche en Blanco, que se celebrará el día 11 bajo el lema Hagan juego, propondrá a los madrileños más de 200 actividades en diferentes espacios de la ciudad, incluyendo la vía pública e instituciones y organismos públicos y privados, que abrirán sus puertas al público en horario especial. El objetivo de esta edición es "invitar a todos a disfrutar y repensar la ciudad, a participar de ella y reinventar las relaciones y modos de vida urbanos", ampliando asimismo la duración de las propuestas entre las 21 y las 7 horas, según el comisariado, el colectivo de arquitectos Basurama.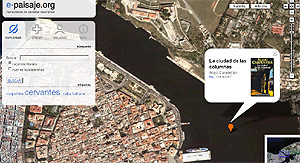 El principal objetivo del proyecto e-paisaje.org es favorecer la accesibilidad a una herramienta de construcción —de construcción literaria— para todos aquellos narradores que trabajen o utilicen el recurso del paisaje. Este objetivo se alcanza mediante la elaboración de una base de datos en la que se están recopilando y recreando rutas literarias y localizaciones geográficas aparecidas en la extensa narrativa en castellano. La herramienta se abre al criterio social, ya que tanto lectores como autores pueden incorporar sus rutas e itinerarios tanto de creaciones nuevas o en proceso como extractadas desde obras ya impresas de autores conocidos.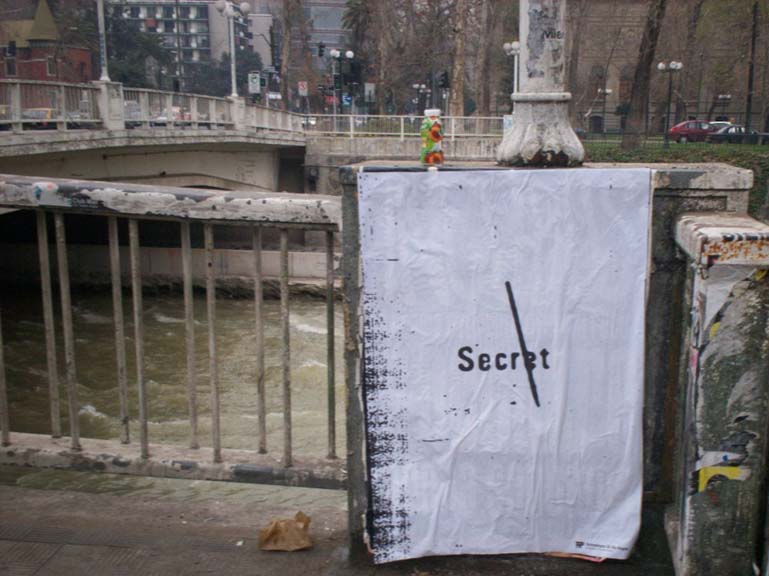 por Valentín Roma, 2007 Secret es una propuesta que se integra dentro de las diversas actividades llevadas a cabo por el Archivo Postcapital de Daniel G. Andújar para Technologies To The People. Este fondo documental, que recopila más de 150.000 archivos digitales extraídos de la red (textos, secuencias de vídeo, bancos fotográficos, recortes de audio, links a asociaciones independientes, etc.), explora la compleja situación de las ideologías capitalistas y comunistas en el nuevo marco geopolítico resultante tras la caída del muro de Berlín. El Archivo Postcapital se presentó públicamente en La Virreina Exposiciones (Barcelona) en el 2006, dentro del contexto de Postcapital, un proyecto multimedia concebido por el ensayista Iván de la Nuez y los artistas Carlos Garaicoa y Daniel G. Andújar.
1998/2006 Website with linked images www.irational.org/tttp/Crypto/armed1.html Presented in the exhibition with large-format DVD slide projection and Folder Presented in the exhibition as an upgrade of almost 100 images, the internet project Armed Citizen shows a series of 17 small arms. No information is given on their origins. Who owns them? Are they being used as criminal evidence? Are they perhaps murder weapons? Who does the ›armed citizen‹ of the title refer to — the police? Or a citizens' defence group that has taken up arms? Is there some allusion to the liberal firearms laws in the United States, to bloody incidents like the amok shootings that took place in Columbine High School, Colorado, in 1999, or in the Gutenberg Gymnasium in Erfurt in 2002? Armed Citizen is difficult to pin down. But it is safe to assert that it deals with an indeterminate feeling of fear and menace, and, by association, with the growing longing for security in a world felt to be increasingly less safe. The exhibition deliberately groups Armed Citizen in a kind of »security zone« together with Heath Bunting's CCTV and Rachel Baker and Heath Bunting's CCTV Sabotag — further irational works pointing to the essential futility of technology —
1997 Website with trademarked sentences linked with URLs www.irational.org/tttp/TM/trademark.html Presented in the exhibition as wall installation Daniel García Andújar – the Spanish media artist better known by his company name Technologies To The People — almost ten years ago created with Language (property) a work addressing the increasing privatization and commodification of language. A plain HTML page presents a list of sentences that have become registered trademarks and thus the property of their corporate owners. Examples include »Where do you want to go today?™« (Microsoft), »A better return on information ™« (SAP), »Moving at the speed of business™« (UPS), »What you never thought possible™« (Motorola). By giving his project the title Remember, language is not free™, Andújar anticipated the disputes surrounding ›intellectual property‹ in the following years (and increasingly evident in the second half of the 1990s with the ruthless scramble for domain names in the World Wide Web). While on the website the individual sentences are linked to the copyright notices of the relevant companies, a large-format, almost ›immersive‹, wall Presented has been chosen for the exhibition.(Inke Arns)