EXHIBITION / LABORATORY / 'SCANDROMAT' October 30 – November 23, 2014 Württembergsicher Kunstverein / Querungen With: Aaaaarg.org, Vuk Cosic, Kenneth Goldsmith, Library Genesis, Herman Wallace's Library, Monoskop, Postcapital Archive, Praxis, Cornelia Sollfrank, UbuWeb, und andere CONFERENCE October 30 – November 2, 2014 Württembergischer Kunstverein and Akademie Schloss Solitude With: Daniel García Andújar, Dusan Barok, Vuk Cosic, Hans D. Christ, Sean Dockray, Iris Dressler, Jan Gerber, Herbordt / Mohren, Henrik Hillenbrand / Oliver Kraft / Björn Kühn / Anna Romanenko, Olia Lialina, Sebastian Lütgert, Marcell Mars, Tomislav Medak, Irit Rogoff, Simon Sheikh, Femke Snelting, Cornelia Sollfrank, Felix Stalder, Jean-Baptiste Joly, Sophie-Charlotte Thieroff and others A conference about today's conditions of knowledge production: from the neoliberal politics of education and the monopolization of "intellectual property" to alternative critical and anarchistic ways of sharing and "borrowing" knowledge. Language: English Registration (Entrance free) at: assistenz@wkv-stuttgart.de
El siglo XXI está marcado por aquello que cae y por el acto en sí del desplome, que siempre ha sido -incluso antes de las Torrres Gemelas- todo un reclamo del mundo artístico Lucía Lijtmaer @lalitx 10/09/2014 eldiario.es "Una verdadera obra de arte" espetó el artista Damien Hirst al diario The Guardian sobre los ataques terroristas del 11 de Septiembre de 2001. Y no lo soltó y salió corriendo. Se explayó: "Hay que concederles [a los terroristas] que lograron algo que nadie consideraba posible, especialmente en un sitio tan enorme como Estados Unidos. De alguna manera, estaría bien felicitarles, no hacerlo es peligroso. Se trata de una obra de arte por derecho propio, creado para tener un impacto por sí mismo". Corría el año 2002 y Hirst tuvo que disculparse, poco tiempo después, por el impacto que tuvieron sus declaraciones. Acostumbrado a buscar la polémica, Hirst recuperó la imagen del 11-S como la orquestación como algo estético, una fiesta terrorífica.
Trece años más tarde, y sin Damien Hirst atreviéndose a teorizar al respecto, recuperamos tres aproximaciones al tiempo que orbita alrededor del ataque contra las Torres Gemelas, ya sea de manera directa o tangencial.
Antes: el pasado como archivo
Si alguien ha trabajado sobre cómo ha cambiado la concepción del mundo de las sociedades occidentales en los últimos años es Daniel García Andújar. El artista visual, teórico y activista prepara su primera gran exposición en el Museo Nacional Centro de Arte Reina Sofía de Madrid para enero de 2015, que incluirá uno de sus proyectos más conocidos,
Postcapital Archive 1989–2001
, en sí germen de la exposición.
Postcapital se centra precisamente en el periodo comprendido entre 1989 y 2001, entendiendo que el lapso comprendido entre la caída del muro de Berlín y los ataques al World Trade Center comportan no lo que se bautizó como la llegada del postcomunismo sino del postcapitalismo. ¿Cómo ha mutado esa era postcapitalista sin su contrapartida comunista? García Andújar entiende que el paso de la economía de producción a la economía de la información debe ser radiografiado, ya que vivimos en un proceso de digitalización que acaba de empezar. A través de la creación de un archivo con más de 250.000 documentos compilados desde Internet durante una década, se busca entender cómo hemos pasado de visitar un archivo a vivir insertados dentro de él.
TO THE READER : OPENING 18 OCTOBER 17:00 WEDNESDAY, 30 OCTOBER - SUNDAY, 3 NOVEMBER 2013
Opening:
 Friday 18 October 2013,  17:00h at BAK, Lange Nieuwstraat 4 (Utrecht)
Walk
: Saturday 19 October, 14:00h
Talk
: Saturday 2 November, 15:00h Regular opening hours 'To The Reader': 19 Okt – 3 Nov | 13.00 – 18.00 (Closed on Mondays)
TO THE READER
'you — hypocrite Reader — my double — my brother!' - To The Reader, Charles Baudelaire (trans. Robert Lowell 1963) 'Capital is not a thing, but a social relation between persons which is mediated through things' - Capital Vol. 1, Karl Marx
TIME

13:00 - 18:00

WHERE
Opening:
 Friday 18 October 2013,  17:00
TO THE READER
'you — hypocrite Reader — my double — my brother!' - To The Reader, Charles Baudelaire (trans. Robert Lowell 1963) 'Capital is not a thing, but a social relation between persons which is mediated through things' - Capital Vol. 1, Karl Marx
To The Reader
 emerges from the understanding that capitalism is, first and foremost, a social relation that defines our behaviour. The exhibition is grounded in our current historical period. The basis for capitalism as a mode of organization has never been weaker, but paradoxically has seen almost no credible articulations of dissent. Perhaps there have been some fairly weak moral pleas for it to behave more pleasantly, and vague ideas that a return to Fordism and Keynesianism might be a good idea. In the art world, this has been echoed with a fetishization of the ideals of exodus and withdrawal and, more recently, a turn to the anti-politics of the object. The artists here alternatively opt, as theorist Donna Haraway would put it, to 'stay with the trouble'. Instead of attempting to objectify capital to produce a critique from a safe ethical distance, the works rather inhabit and map the flows of the supposedly non-ideological system, making visible that which is hidden and complicating that which is presented to us as natural.
[caption id="attachment_1381" align="aligncenter" width="695"]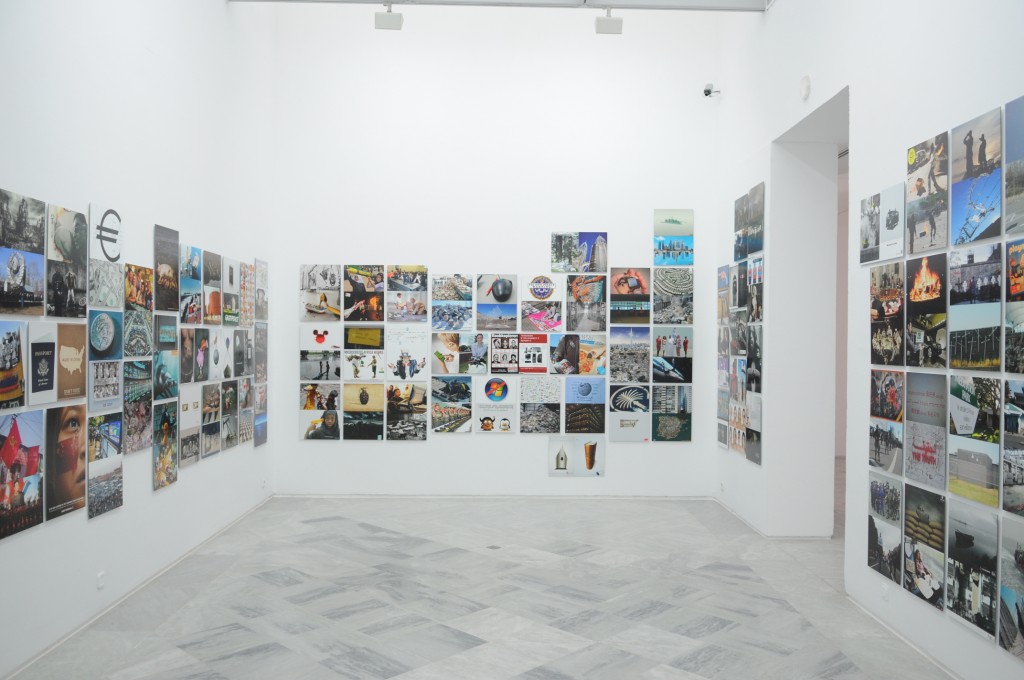 CAAC Sevilla[/caption] February 15–June 9, 2013 YBCA Galleries Without Reality There Is No Utopia was organized by the Centro Andaluz de Arte Conteporaneo in Seville, Spain; and curated by Alicia Murría, Mariano Navarro and Juan Antonio Álvarez Reyes. Artists in the exhibition include: Alfredo Jaar, Artur Zmijewski, Carlos Motta, Chto Delat?, Ciprian Muresan, Daniel García Andujar, Dora García, Ed Hall, El Roto, Federico Guzmán, Fernando Bryce, Ignasi Aballí, Jan Peter Hammer, Judi Werthein, Katya Sander, Lene Berg, Manolo Quejido, Oliver Ressler, Rirkrit Tiravanija, Superflex, Zeina Maasri, and Zhou Xiaohu. In the Age of Information, actual reality has been supplanted by virtual reality, computer simulation, and false narratives. Since the concept of utopia is based on the improvement of reality, the disappearance of the real also signals the end of utopia.Without Reality There Is No Utopia illustrates this premise by examining false narratives that masquerade as truth; the collapse of Communism in the 1980s; the current financial crisis, which heralds the demise of Capitalism; the contradictions inherent in geopolitics; and the explosion of democratic uprisings around the world. The exhibition includes work by more than two-dozen international artists, and features works of photography, video, drawing, painting, collage, and more. The exhibition is organized into two asymmetric sections that consider shifts in global political realities.
Daniel García Andújar, Kader Attia, Eva Bakkeslett, Michael Bielicky and Kamila Richter, Matthew Connors, Teddy Cruz, Amy Franceschini, Alexandra Daisy Ginsberg, Michael Joaquin Grey, Ingo Günther, Toril Johannessen, Fran Ilich, OS Kantine, Krištof Kintera, Kitchen Budapest, Kultivator, Suzanne Lacy, Steve Lambert, Daniel Latorre and Natalia Radywyl, Lize Mogel, Naeem Mohaiemen, Nils Norman, Christian Nold, Sascha Pohflepp and Karsten Schmidt, Morgan Puett, Oliver Ressler, Abu Bakr Shawky, Superflex, Terreform ONE, Krzysztof Wodiczko,  The Yes Men and Ztohoven. Cartographies of Hope: Change Narratives builds on a series of similar previous projects organized by the DOX Center for Contemporary Art in the last two years, including the exhibition The Future of the Future (2010) and the marathon of ideas 12 Hours of the Future (2010), the exhibitions The Lucifer Effect (2011) and Democracy in Action (2012), and the two forums for public debates called DOXagora (2012) and What is the Vision of Prague (2011-2012).
"It's not the story of the battle; it's the battle of the story!" Patrick Reinsborough
In the last few years we have witnessed how the corrosion of the three main modes of social imaginary that defined modernity – the market economy, the public sphere, and the self-government of citizens – has reached a critical point. As a result, the increasing number of people in different fields, social scientists, artists, public intellectuals, and activists are calling for rethinking and reinventing social change. Such voices, however, are too often fragmented in their respective boundaries, and, consequently, they have not yet been able to articulate a compelling alternative metanarrative that the public would identify with and which would thus result in a major positive change. The project Cartographies of Hope: Change Narratives was born out of the sense of urgency and the effort to address this situation. It seeks to bring attention to this condition and to call for joint effort to identify alternatives we can agree. The premise of the project is that narratives of social imaginary play a key role in generating positive changes. Social change is always seen as a certain story, which then becomes an important driver of the change itself. This double function of reflection and agency constitutes a methodological core of the project.
Seminario de Trabajo
24-25-26 de Octubre 2012
Dirección:
Anna María Guasch
Coordinación:
Ada Sbriccoli
Resumen:
El primer seminario de trabajo del proyecto
Global Art Archive (GAA)
del grupo de investigación
Cartografía crítica del arte y la visualidad en la era global: Nuevas metodologías, conceptos y enfoques analíticos
(HAR2010-17403) del Departamento de Historia del Arte de la
Universidad de Barcelona
aborda varias cuestiones relacionadas con el archivo visual y el impulso
anarchivístico
en los usos de la imagen en el arte contemporáneo. Durante los tres días del seminario, se analizarán temas que abordan las prácticas archivísticas transculturales, la apropiación, circulación y migración de las imágenes en una escala global, así como las formas de los archivos, documentos, colecciones y recuerdos en el campo del arte contemporáneo. Una parte del seminario de trabajo consistirá en ponencias a cargo de los miembros del grupo de investigación que introducirán la sesiones de debate en torno a lecturas seleccionadas. Otra parte estará dedicada a las conferencias de los ponentes invitados y a las presentaciones de proyectos de artistas. Más allá de la estructura normalizada de las conferencias académicas, el formato del workshop pretende fomentar el intercambio horizontal y la producción colectiva de conocimiento, facilitando el establecimiento de redes de colaboración entre los participantes.
El viaje de los saberes a través de la lectura Desde el 18 de octubre al 17 de marzo Institución: Casa del lector Comisariado: Francisco Jarauta. Organizan: Casa del Lector y Acción Cultural Española Colaboran: IVAM, MEIAC, MACBA, Museo de Pontevedra, Colección NovaGalicia, Colección ICO, Biblioteca Universitaria
Laus Award at The 42nd edition of the Laus Graphic Design and Visual Communications Awards In 1964, ADG-FAD created the LAUS Awards to recognize the creativity and the quality on the graphic and the audiovisual communication. The Laus are divided into