e-madrid.org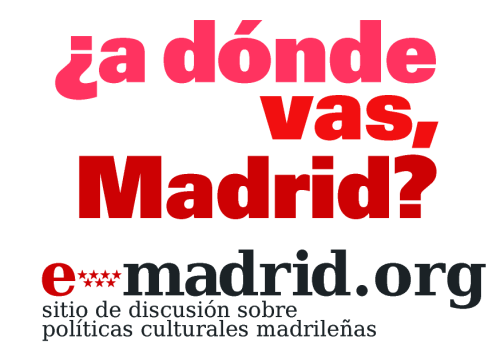 Durante la construcción del centro de interpretación del Teatro Romano de Cádiz, tras desenterrar unas ruinas, se encontró una placa con la inscripción "Balbo ladrón". Según las hipótesis más plausibles un artesano romano quiso dejar constancia de la falta de honradez del constructor del teatro, lo que seguramente le había pasado factura de algún modo.
Desde entonces estas cosas siguen pasando, y se sostienen gracias a la falta de información general, consiguiendo que la mayoría no se entere. En tiempos del Imperio Romano los afectados hacían pintadas en las paredes para burlar las restricciones impuestas en los canales establecidos de comunicación, hackeaban el sistema del momento para encontrar espacios de expresión libres de control.
Los proyectos (e-) son plataformas que plantean y cuestionan la capacidad de autorregulación de la sociedad en contextos de discusión y crítica cuando se desactivan los mecanismos de control social y las regulaciones impuestas por los medios tradicionales. Se trata de herramientas de uso colectivo y de implantación local que pretenden influir en determinados contextos a través de la fuerza que crean la complicidad colectiva de numerosas maquinarias individuales, de personas o colectivos, que se hallan dispersas, pero que tienen la capacidad de operar, especular, o desarrollar un nivel de conocimiento colectivo.
El espacio digital en la red no surgió simplemente como un medio que permite la comunicación; como espacio público que es, también surgió como un nuevo teatro de operaciones determinado por relaciones sociales y de poder. Y este es, sin duda, un espacio donde otros actores pueden ganar visibilidad. En la economía global cualquier organización por pequeña que sea su fracción de representación en la estructura, puede tener una influencia decisiva utilizando con eficiencia las herramientas y los recursos que les ofrece las nuevas tecnologías de información y comunicación.
Así nace ahora e-madrid, parte de la red de e-ciudades buscando la participación social de colectivos y movimientos locales implicados en procesos críticos sobre las políticas y los procesos culturales. Generando nuevas dinámicas, rompiendo mecanismos de control. Dando voz a lo que no es voz, a la crítica mordaz y al lenguaje expresivo. Unos con más razón que otros. Unos con mejores formas que otros. Unos con mayor exigencia moral que otros. Es más de lo que se suele oír o leer en otros medios. Siempre en el límite.
e-madrid es un proyecto de Technologies To The People para la UTE de e-madrid.