Daniel García Andújar ya prepara su gran exposición en el Reina Sofía
2 Abril de 2014
arteinformado.com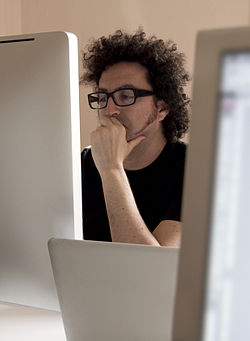 Daniel G. Andújar
El artista visual, teórico y activista alicantino Daniel G. Andújar (Almoradí, 1966) ya está preparando su primera y gran exposición en el Museo Nacional Centro de Arte Reina Sofía de Madrid, según ha reconocido a ARTEINFORMADO. La muestra, que aún no tiene título, se exhibirá del 20 de enero al 4 de mayo de 2015, en la 3ª planta del Edificio Sabatini, y estará comisariada por Manuel Borja-Villel, director del Reina Sofía.
No pretende ser una retrospectiva del artista, sino una exposición donde gran parte de las obras son de nueva producción, aunque también se mostrarán trabajos anteriores pocos conocidos o nunca vistos en España junto a otros como 'Postcapital Archives (1989-2001)', adquirido por el Museo Reina Sofía en 2012, que además de ser el germen de toda su obra posterior a los años 90 ha sido el origen de la exposición, ya que, tal y como explica, en una entrevista reciente en información.es, "el museo estaba interesado en tener un trabajo mío en su colección y se hizo con el archivo Postcapital. A partir de ahí el equipo de la colección estudió mi obra y me hicieron el ofrecimiento de la exposición". Este archivo incluye más de 250.000 documentos compilados desde Internet durante una década.
Andújar, afincado en Barcelona desde hace años, es un artista de compleja clasificación a quien con frecuencia se le asocia con el llamado 'net art' y el 'nuevo arte de los medios'. Sin embargo, según aclara en una una entrevista con Latitudes: "mis actividades y la práctica que llevo a cabo quieren rehuir el 'gueto del NetArt', como puede verse en los primeros trabajos en la web de irational.org, pero también otras etiquetas". En sus proyectos Andújar "cuestiona, revisa y reflexiona mediante la ironía y la utilización de estrategias de presentación de las nuevas tecnologías de la comunicación, las promesas democráticas e igualitarias de estos medios, y crítica la voluntad de control que esconden detrás de su aparente transparencia". Buena prueba de ello es otra de sus obras más conocidas 'Technologies To The People', presentada por vez primera durante el proyecto "Discord. Sabotage of Realities", que tuvo lugar en la Kunstverein y la Kunsthaus de Hamburgo en 1996, y que además continúa funcionando como marco conceptual para la práctica artística del autor. También cabe citar otros proyectos online como 'art-net-dortmund' o 'e-' (e-barcelona.org, e-madrid.org, e-paisaje.org, e-sevilla.org , e-stuttgart.org, e-valencia.org, et. al.), unas plataformas digitales donde los ciudadanos podían discutir sobre las políticas culturales de una ciudad.
Sin duda alguna, Daniel G. Andújar es uno de los artistas españoles más activos en estos momentos ya que mientras prepara su gran muestra en el Reina Sofía no deja de participar en múltiples proyectos como relata a ARTEINFORMADO. Acaba de venir de la inauguración de la "Helsinki Photography Biennial", donde es el único artista español seleccionado por la comisaría turca Basak Senova, quien ya le comisarió la individual 'Postkapital Arsiv (1989-2001), en el OPAL Contemporary Art Space de Estambul. Este viernes acude al Bolit de Girona a la inauguración del proyecto "Hic Et Nunc. Sobre paradojas democráticas", comisariado por la barcelonesa Imma Prieto, que viene del Temp Art Space de Nueva York y que en los próximos días también se inaugura en el Hirshhorn Museum de Washington y en el MUCA Roma de Ciudad de México. La semana próxima estará preparando una intervención en el centro de la ciudad croata de Rijeka donde también participará en "Oh, My Complex: On Unease at Beholding the City" en el Museum of Modern and Contemporary Art de Rijeka (Croacia), comisariada por Iris Dressler y Hans D. Christ, dentro del festival "Mine, Yours, Ours festival City and the Citizens". Para el próximo mes tendrá una intervención con el proyecto "Invisible Violence", en el Museum of Contemporary Art de Belgrado (Serbia), comisariada por Zoran Eríc y Blanca de la Torre, en una coproducción con el Artium de Vitoria. Y por último, también participa en la muestra itinerante "NETescopio", que se puede ver, hasta el próximo 21 de abril, en la Edith -Russ-Haus for Media Art de Oldenburg (Alemania). Una exposición comisariada por el argentino Gustavo Romano, con quien García Andújar co-comisarió la muestra "Feria Internacional Ciudad Creativa – Cibeles 2013", en el CentroCentro Cibeles de Madrid.
Interesado en construir un discurso cultural a través de los medios digitales y de las tecnologías, la obra de Andújar se ha visto expuesta en numerosas ocasiones, destacando su presencia en colectivas como la 53ª Bienal de Venecia, "Acts of Vocing. On the Poetics and Politics of the Voice" (2013), en el Total Museum of Contemporary Art (Seúl) o "Cartographies Of Hope: Change Narratives" (2012), en el DOX Center for Contemporary Art (Praga). También en distintas exposiciones individuales, como "Wir Beobachten" (1997), en la Künstlerhaus de Dortmund, "The New Technologies To The People System" (2007), en el Aarhus Kunstbygning-Center for Contemporary Art (Aarhus, Dinamarca), Postcapital Archive (1989-2001) (2008), en el Württembergischer Kunstverein (Stuttgart) o las más recientes como "Capital" (2011) en el Musac de León, bajo el comisariado de María Inés Rodríguez, en "The Art of Seduction" (2011), junto al malagueño Rogelio López Cuenca (Nerja, 1959), en Palmadotze (en su antigua sede en Vilafranca del Penedés) y "Photo Collection – Technologies To The People" (2013), en la sede madrileña de la galería Casa sin fin. Precisamente, es esta galería, con sede también en Cáceres, quien ejerce su representación comercial. También tienen obra suya las galerías Palmadotze (Santa Margarida i els Monjos, Barcelona) y Espaivisor (Valencia) como reconoce a ARTEINFORMADO.