2 Abril de 2014
arteinformado.com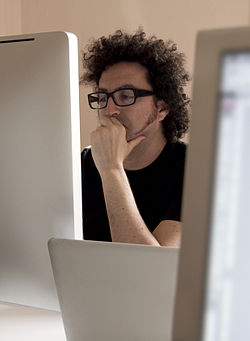 Daniel G. Andújar
El artista visual, teórico y activista alicantino Daniel G. Andújar (Almoradí, 1966) ya está preparando su primera y gran exposición en el Museo Nacional Centro de Arte Reina Sofía de Madrid, según ha reconocido a ARTEINFORMADO. La muestra, que aún no tiene título, se exhibirá del 20 de enero al 4 de mayo de 2015, en la 3ª planta del Edificio Sabatini, y estará comisariada por Manuel Borja-Villel, director del Reina Sofía.
No pretende ser una retrospectiva del artista, sino una exposición donde gran parte de las obras son de nueva producción, aunque también se mostrarán trabajos anteriores pocos conocidos o nunca vistos en España junto a otros como 'Postcapital Archives (1989-2001)', adquirido por el Museo Reina Sofía en 2012, que además de ser el germen de toda su obra posterior a los años 90 ha sido el origen de la exposición, ya que, tal y como explica, en una entrevista reciente en información.es, "el museo estaba interesado en tener un trabajo mío en su colección y se hizo con el archivo Postcapital. A partir de ahí el equipo de la colección estudió mi obra y me hicieron el ofrecimiento de la exposición". Este archivo incluye más de 250.000 documentos compilados desde Internet durante una década.
Andújar, afincado en Barcelona desde hace años, es un artista de compleja clasificación a quien con frecuencia se le asocia con el llamado 'net art' y el 'nuevo arte de los medios'. Sin embargo, según aclara en una una entrevista con Latitudes: "mis actividades y la práctica que llevo a cabo quieren rehuir el 'gueto del NetArt', como puede verse en los primeros trabajos en la web de irational.org, pero también otras etiquetas". En sus proyectos Andújar "cuestiona, revisa y reflexiona mediante la ironía y la utilización de estrategias de presentación de las nuevas tecnologías de la comunicación, las promesas democráticas e igualitarias de estos medios, y crítica la voluntad de control que esconden detrás de su aparente transparencia". Buena prueba de ello es otra de sus obras más conocidas 'Technologies To The People', presentada por vez primera durante el proyecto "Discord. Sabotage of Realities", que tuvo lugar en la Kunstverein y la Kunsthaus de Hamburgo en 1996, y que además continúa funcionando como marco conceptual para la práctica artística del autor. También cabe citar otros proyectos online como 'art-net-dortmund' o 'e-' (e-barcelona.org, e-madrid.org, e-paisaje.org, e-sevilla.org , e-stuttgart.org, e-valencia.org, et. al.), unas plataformas digitales donde los ciudadanos podían discutir sobre las políticas culturales de una ciudad.
Read more →