"On July 2 and 3, 2010, four world corporate and state leaders will meet in Madrid. The Summit will take place at a time when the world confronts the worst economic crisis since the Second World War. Their goal: to elaborate a declaration seeking to reverse the status of the global economy." ---------------------------------------------------------------- PSYCHOECONOMY! is an artistic platform for discussion and research, proposing an alternative approach on various global issues. Each edition involves an artist's meeting, a public event and the publication of the resulting conclusions, documents, texts and graphic materials. Artists participating in the first issue: Daniel García Andújar (Technologies to the People) Fran Ilich (SpaceBank) Georg Zoche (Transnational Republic) Gustavo Romano (TimeNotesBank)
CA2M. 21 - 25 JUN 2010 Centro de Arte Dos de Mayo Dirigidas por Aurora Fernández Polanco English information Inscripción gratuita en el programa de conferencias (22, 23, 24, junio) en educacion.ca2m@madrid.org o en 912760227 a partir del 1 de junio. Acceso Sesiones críticas Acceso Programa de las jornadas Participantes admitidos en los talleres Todos los asistentes recibirán un certificado. "El susurro es el ruido que produce lo que funciona bien" (R.Barthes) Como práctica de resistencia ante el inevitable ruido mediático, determinadas producciones artísticas trabajan estimuladas por las posibilidades políticas que procura el intercambio de imágenes en la cultura visual global. Para pensar con las imágenes hay quien se involucra en estrategias de redefinición, confrontación con los medios, deriva o re-montaje; hay quien decide escamotear la visibilidad y aproximarse a lo inframince; hay, por otra parte, quien intenta un tipo de resistencia sistémica que hace hincapié en el gesto desobediente. En todos los casos se ocupan de cuidar el susurro de las imágenes que compartimos como una forma saludable de conocimiento colectivo.
El Área de Arte y Diseño de la Universidad Europea de Madrid organiza diversas conferencias y talleres dirigidos por 20 de los mejores profesionales del arte en sus aspectos teóricos, técnicos y de gestión de recursos. www.uem.es Lugar: Campus de la Universidad Europea de Madrid en Villaviciosa de Odón, C/ Tajo s/n, Urb. El Bosque, Madrid. Fechas: 1 al 5 de marzo de 2010. Organiza Área de Arte y Diseño de la Universidad Europea de Madrid Director Área de Arte y Diseño: Pr. Joaquín Ivars Directora de Departamento Creación Artística y Teoría de las Artes: Pra. Grego Matos. Directores de la Semana: Pr. Pablo España, Pr. Mitsuo Miura y Pr. Ramón González Echevarría, artistas y profesores del Departamento de Arte de la Universidad Europea de Madrid. Profesores asistentes en los talleres: Juan Zamora, Esther Pizarro, Helena Cabello, Ana Carceller, Carlos Rodríguez-Méndez, Concha García, Javier Chavarría, Alberto Chinchón, Mónica Gener, Pedro Morales Elipe, Tomás Muñoz, Enrique Corrales. Dirigido a: - Alumnos de las titulaciones de Arte, Diseño y Arquitectura de la Universidad Europea de Madrid, alumni de la Universidad Europea de Madrid y exalumnos de Arte de la Universidad Europea de Madrid. - Profesores de Expresión Plástica y Diseño de centros de enseñanzas medias. - Alumnos de Bellas Artes de otras universidades. III Semana del Arte. Universidad Europea de Madrid. - 60 invitaciones por orden de petición para asistir a las conferencias de Arte en la Universidad Europea de Madrid. - 30 invitaciones por orden de petición para participar en los talleres. Estructura: Conferencias: Ángel González, José Díaz Cuyás, Armando Montesinos, Santiago Olmo Talleres de artistas (conferencia + 4 días de taller): 1. Maider López 2. Manolo Quejido 3. Federico Guzmán 4. Daniel García Andújar 5. Domingo Mestre + Amador Savater + Xelo Bosch y Cyrille Larpenteur, de la Université Libre pour la Construction Colective (UNILCO-France)
Descripción del Workshop
El objetivo del taller
'La aprehensión de la realidad desde el archivo postcapital'
es forjar un diálogo entre los participantes que permita, desde la práctica artística, generar plataformas de reflexión en torno a nuevos procesos transformadores de nuestra realidad. Este taller
pretende instruir a los asistentes en conceptos derivados de la introducción de nuevas tecnologías de información y comunicación, la irrupción de Internet y el uso extensivo de la informática y la electrónica
en su práctica habitual.
'La aprehensión de la realidad desde el archivo postcapital', del 11 al 13 de noviembre en la Sala CICCA de Arrecife. Daniel G. Andújar, artista multimedia, fundador de Technologies to the people (TTTP) y del colectivo irational.org., dirigirá un encuentro-taller teórico y práctico bajo el título de "La aprehensión de la realidad desde el archivo postcapital", que tendrá lugar del 11 al 13 de novembre, de 18:00 a 20:00 horas, en la Sala CICCA de Arrecife. Se trata de una iniciativa enmarcada en la exposición "La crisis es crítica", que hasta el próximo 15 de noviembre puede contemplarse en el Centro de Arte Convento Santo Domingo de Teguise, dentro del programa del V Encuentro Bienal ArteLanzarote 2009.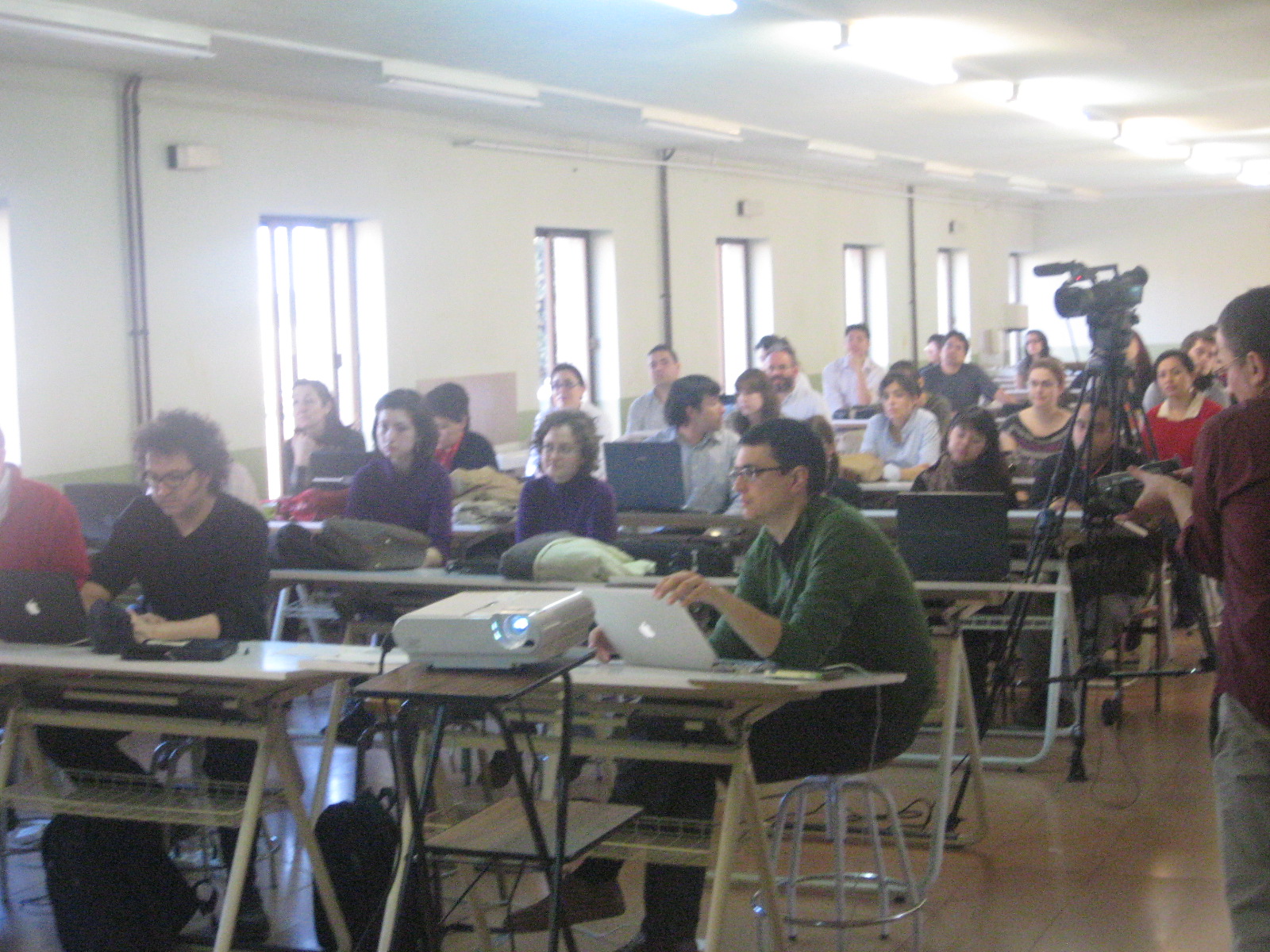 Espacio de discusión y búsqueda de colaboradores para los proyectos
Facultad de BBAA. Avd de la Merced S/N. Telf. 923294620
Áula 1-10
En este espacio puedes obtener información sobre los proyectos seleccionados en esta primera edición del Colaboratorio LPCI. Si estás interesado en opinar sobre estos proyectos o inscribirte en alguno de ellos se te solicitará que te des de alta en el sistema mediante un sencillo procedimiento de activación.
Sin embargo, para acceder a la información disponible de cualquier proyecto o leer las discusiones activas no es necesario ser usuario registrado. Simplemente pulsa "

Colaboratorio (LPCI)

" al pie de esta presentación para acceder a toda la información disponible.
Postcapital: Vortragsreihe, Workshops, Filmprogramm Württembergischer Kunstverein, Schlossplatz 2, 70173 Stuttgart, Fon: +49 (0)711 22 33 70, info@wkv-stuttgart.de Recherche Recherchieren / Die kapitalistische Stadt als urbane Utopie Workshop Leitung: Yvonne P. Doderer 17. + 18. Januar 2009, jeweils 12 – 18 Uhr Das von Daniel García Andújar innerhalb seines Projektes Postcapital. Archive 1989 – 2001 zugänglich gemachte, digitale Material eröffnet vielfältige Fragestellungen und Möglichkeiten zur kritischen Reflektion. Teil 1: Research the Research (17. Januar 2009) Ein erster Fragenkomplex betrifft das Archiv selbst. Wie sind digitale Archive strukturiert? Worin unterscheiden sich digitale Archive von anderen Archiven? Wer hat Zugang zu digitalen Archiven und Informationen? Welche Strategien der Erschließung und Aneignung sind notwendig, um aus Daten Wissen zu generieren? Wenn wir bereits in vernetzten Archiven leben: Welche Realitäten und Lebensformen werden hier konstruiert? Ist die Datenflut, mit der wir uns heute konfrontiert sehen, nur Ausdruck einer technologischen Verheißung auf mehr Kontrolle oder führt sie auch zu einem Mehr an partizipatorischer Handlungsmacht - insbesondere in urbanen Räumen?
Film and lecture program
Curated by Katrin Mundt
16 and 17 January 2009, 7 - 10:30 pm [caption id="" align="alignnone" width="318" caption="Mary Koszmary, Yael Bartana"]
[/caption]
Postcapital: Vortragsreihe, Workshops, Filmprogramm Württembergischer Kunstverein, Schlossplatz 2, 70173 Stuttgart, Fon: +49 (0)711 22 33 70, info@wkv-stuttgart.de
"Where is Now?" picks up at the archive as a repository for the present— a medial place where reality is not only stored and formatted in images and documents but also interpreted and configured anew through each individual access. Here, time itself becomes a malleable substance, the material of playful intervention and radical reinterpretation. From the perspective of different presents—from the nineteen-sixties through today—the films and videos in this program frustrate the linear progression of time. Historical crises and turning points in particular, which still today determine the rhythm of our time calculations, are encountered by the works with skepticism. Their protagonists develop strategies for overcoming history—by proclaiming new beginnings, by inhabiting the permanent crisis of a precarious present, or by staging a retro-future against the backdrop of dated utopias. The works problematize the state of experience and perception as well as of agency and representation under archive conditions: in the images self-created by societies in order to ensure their presentness, in the ways in which embodied memory becomes manifest, and in the medial exploration of deviance and dissent.
Lecture (german) Wednesday, January 14, 2009, 7 pm Abstract Remixing—the use of existing works to create new works—is more than just a style of electronic music. Remixing rather characterizes a meta-method that is becoming increasingly pivotal to all cultural practices. While many avant-garde movements of the twentieth century were concerned with processes of authorship decentering, the universal medium of the networked computer at the dawn of the twenty-first century turned it into a mass phenomenon. Felix Stalder will be presenting an overview of the ramifications of this changeover, which links questions of media-related development with a reconceptualization of authorship and with legal, economic, and sociopolitical dynamics.