El Museo Reina Sofía tiene hasta 13 versiones diferentes del error más famoso de Internet ¿Qué es el error 404? ¿De dónde viene? ¿A dónde va? David Sarabia Diario.es Corría el año 1992 e Internet estaba aún en pañales. Nada que el W3C (World Wide Web Consortium) no hubiera notado. La versión 0.9 del protocolo HTTP acababa de ser lanzada y entre sus especificaciones estaba la inclusión del 404: Not found. El error se produce "cuando el servidor no ha encontrando ninguna coincidencia con la URL solicitada". ¿Y por qué 404? Según el Consorcio, el primer cuatro tiene que ver con un error del cliente: o no hay nada en la web que buscamos o la hemos introducido mal. El cero es un error sintáctico y el segundo cuatro es el código del error, uno más entre tantos. A saber, por ejemplo: el 403 significa que el acceso a un sitio web está prohibido, el 402 que es necesario pagar por entrar y el 409 que existe un conflicto entre el cliente y el servidor.  Pero el W3C lista muchos más códigos en su web. Sin embargo, hay quien dice que todo partió de la oficina 404 del CERN en Ginebra (Suiza). Aunque fue allí
Interview with Daniel G. Andújar
Geert Lovink
April 26, 2016 interview 5.029 words In April 2015 I had the honour to receive a private tour by the Spanish artist Daniel G. Andújar of his solo show,
Operating System
, at the
M
u
s
e
o
N
a
c
i
o
n
a
l
C
e
n
t
r
o
d
e
A
r
t
e
R
e
i
n
a
S
o
f
í
a
M
u
s
e
u
m
i
n
M
a
d
r
i
d
.
1
I know Daniel from the net.art days of 1996–1997 when he was running
Technologies To The People
® (
TTTP
) (1996), a work shared in
Operating System
. All these months later, as the works in the show stayed with me, I decided to contact Daniel and request an e-mail interview with him. What I appreciate in his work is the natural way in which his 'new media arts' background is woven into the broader visual arts context of a large museum such as Reina Sofía. The show brought together the real thing and its virtual double – as if the two have never been at odds.
Operating System
offered a mix of many things, such as playful net.art, a dark, hacker space installation, journalism investigating real estate projects (from the pre-2008 boom years), a colourful room filled with manipulated versions of political celebrity posters and an art historical investigation into Pablo Picasso. The exhibition seemed to find the 'tactical' equilibrium so many people have thrived on and thirsted for. When we have all moved on to become post-digital, where 'analogue is the new digital,' then why should we continue to marginalize those who experiment with the 'new material' in an evermore ironic fashion? It is time for the Great Synthesis. The historical compromise is there. Everyone prepares for the first post-digital Venice Biennale in 2017. Let's enjoy the delicate mix between technology, politics and aesthetics in such a way t
h
a
t
n
o
n
e
o
f
t
h
e
t
h
r
e
e
d
o
m
i
n
a
t
e
,
a
n
d
l
e
t
A
n
d
ú
j
a
r
b
e
o
u
r
g
u
i
d
e
.
Daniel García Andújar (contenido exclusivo)
«Estamos en una especie de rizoma en el que todos nos vigilamos a todos»
14.03.2015 | 04:15
"Vivimos en un caos de información"
Mezcla en el Reina Sofía la realidad y la ficción en «Sistema Operativo» «Para mí un 'hacker' es un sabio de la tecnología que se infiltra en el sistema engañándolo», afirma el artista que abandonó Valencia tras la polémica por su portal de anónimos
Natalia Vaquero | madrid/epipress Levante EMV
La provincia Diario Las Palmas
Diario de Mallorca
La Nueva España
Las nuevas tecnologías comprometen el futuro de los más jóvenes que vuelcan descontroladamente sus vidas en las redes sociales sin ser conscientes de que se desnudan ante compañías que utilizarán esa información como más les convenga, alerta Daniel G. Andújar (Almoradí, Alicante, 1966), uno de los grandes del arte en la red o artista visual, como le gusta autodefinirse, que dibuja una inquietante realidad en la que todos somos vigilantes y vigilados. Andújar triunfa con su desconcertante obra en medio mundo y muestra ahora su Sistema Operativo en el Museo Reina Sofía de Madrid hasta el próximo 4 de mayo. Autodidacta sin complejos, abandonó Valencia tras molestar a las autoridades con anónimos que colgaba en un portal digital y desde entonces se vuelca en desenmascarar a través de la ironía las falsas promesas de libertad prometidas por Internet.
26 - 27 marzo, 2015 - 18:00 h /
Edificio Nouvel, Auditorio 200 y Medialab Prado
Internet ha producido nuevos comportamientos, subjetividades e instituciones vinculadas a otra manera de ser y hacer. Este seminario debate cómo estos cambios desequilibran categorías artísticas establecidas, el autor o la circulación de la obra única, al tiempo que instauran profundas contradicciones, desde la creatividad como valor económico hasta la indistinción en el tiempo de trabajo. ¿Es posible plantear otro ecosistema artístico desde estas ambigüedades? Las nociones de
autor
y
originalidad
parecen resistirse al cambio. De hecho, la era de internet ha traído consigo una inesperada recuperación de nociones modernas. Esta situación, aunque paradójica, es comprensible. La crítica posmoderna no pudo deshacerse del sujeto excepcional ni del conocimiento original porque sólo los desmontó
en la teoría
, sin ser capaz de desarticular las prácticas e instituciones sobre las que se sustentaban. Se supuso que una transición del texto de autor al hipertexto haría posible el funeral de estas nociones modernas, sustituidas por un nuevo vocabulario contemporáneo. Con la llegada y expansión de la red, estas predicciones, que hace unas décadas no pasaban de ser especulaciones académicas, se veían en condiciones de superar
en la práctica
la lógica de la autoría individual y la originalidad. Sin embargo, estos anhelos, que debían ser constatados por un desplazamiento tecnológico en los modos de producir conocimiento y generar subjetividad, están siendo hoy contestados en la pervivencia y estatismo de un modelo que ignora los desafíos y potencias de la red. Con la finalidad de
defender
al autor y su originalidad, en algunos casos espacio de resistencia, se restringe el acceso, la producción y la circulación de conocimiento en los medios digitales, entre los que el museo participa. En este sentido, las diversas legislaciones no sólo no han desechado al autor a favor de la creación colectiva y la liberación de la información, sino que incluso reclaman hoy su vigencia con más insistencia que nunca.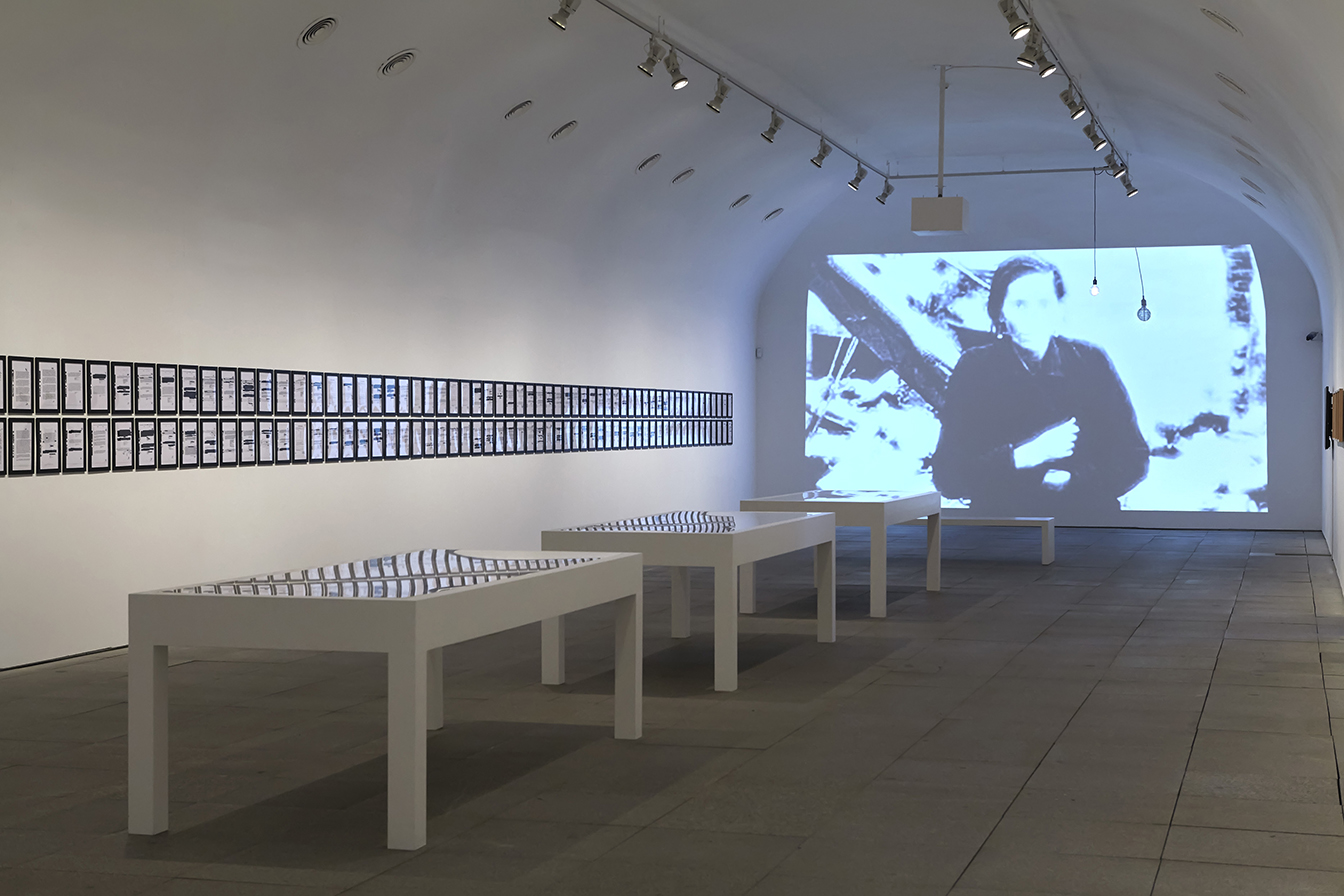 "Tomar en cuenta este espacio horizontal y secular del espectáculo abigarrado de la sociedad moderna implica que no es adecuada ninguna explicación singular que lo remita a uno de inmediato a un origen único. Y así como no hay simples respuestas dinásticas, no hay formaciones discretas o procesos sociales simples" Edward S. Said,
El mundo, el texto y el crítico
. En dos ocasiones visité la muestra "Sistema Operativo" del artista Daniel G. Andújar (Almoradí, Alicante, 1966), actualmente en el museo Reina Sofía, la primera fue una estupenda visita guiada y comentada por el propio DGA; en la segunda, ya sin las multitudes de la primera visita, me serví del mismo recorrido con el ánimo de confirmar y revalidar las impresiones recibidas, pues entre los muchos argumentos afirmativos que la muestra me había deparado quizás el más intrigante y productivo fuera el sinuoso y complejo recorrido que trazan y estructuran, en singular topografía descriptiva de ciencias humanas y políticas, las dos salas con las que se abre y cierra la exposición. Ese recorrido se inicia con un paisaje, que bien pudiera haber sido escrito y escenificado por Ballard, de destrucción y devastación: la obsolescencia, programada o no, biológica o artificial, del concepto mismo de "última generación", tan feliz y generosamente utilizado por la seducción publicitaria en una civilización como la actual que de una forma tan inteligente y efectiva ha sabido unir la creación de nuevos inventos informáticos con la conquista de una "felicidad personal". Lo que esta sala nos muestra es, ciertamente, un inquietante cementerio tecnológico, pero esa intranquilidad y desasosiego que nos depara su contemplación se ramifica en dos consideraciones no menos turbadoras.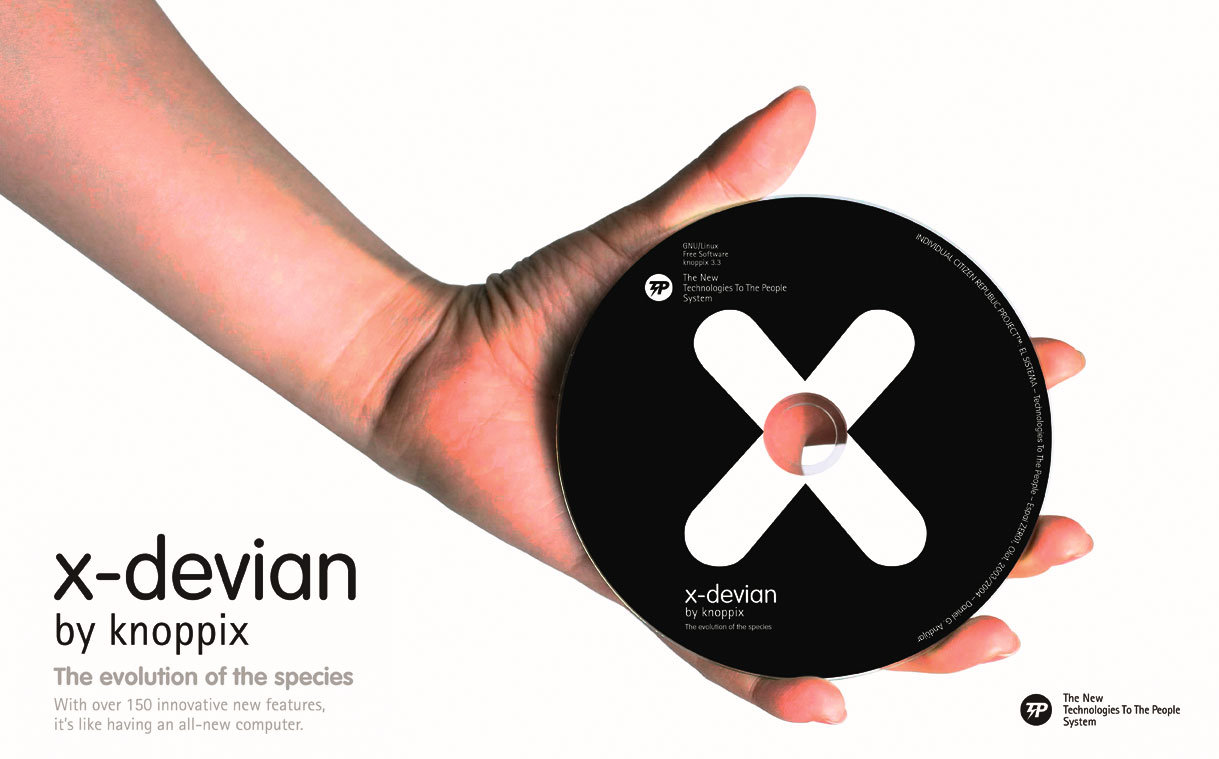 Daniel G. Andújar Sistema Operativo Fecha de publicación: 03/02/2015 Realización: José Luis Espejo Canal: Inaudible Etiquetas: Ideología Espacio Público Crítica institucional Propaganda Medios de masas Dominio Público Arte en Institución Licencia: Creative Commons Dominio Público 1.0 En esta cápsula Daniel G. Andújar, entrevistado con ocasión de su exposiciónSistema Operativo, habla del proyecto TTTP Technology to the People, que comenzó como imagen corporativa falsa y obra de arte en la red. Desde este gueto del net art, como él lo define, surge una reflexión del artista sobre el papel de la tecnología en nuestra interpretación y alteración del entorno en que vivimos. Esta obra habla sobre la importancia del simulacro en el arte y el pensamiento de los años noventa. Ante esta tendencia, la obra de Andújar se vale de los mecanismos propios del sistema, de los métodos de representación, para ponerlos en jaque e intentar hackearlos. En escasos doce minutos el artista habla sobre Internet, la estrecha separación entre nueva tecnología y naturaleza, los códigos y usos de los signos, los cambios en el mundo capitalista o la relación de las herramientas con la tecnología. http://radio.museoreinasofia.es/IMG/article_PDF/article_a553.pdf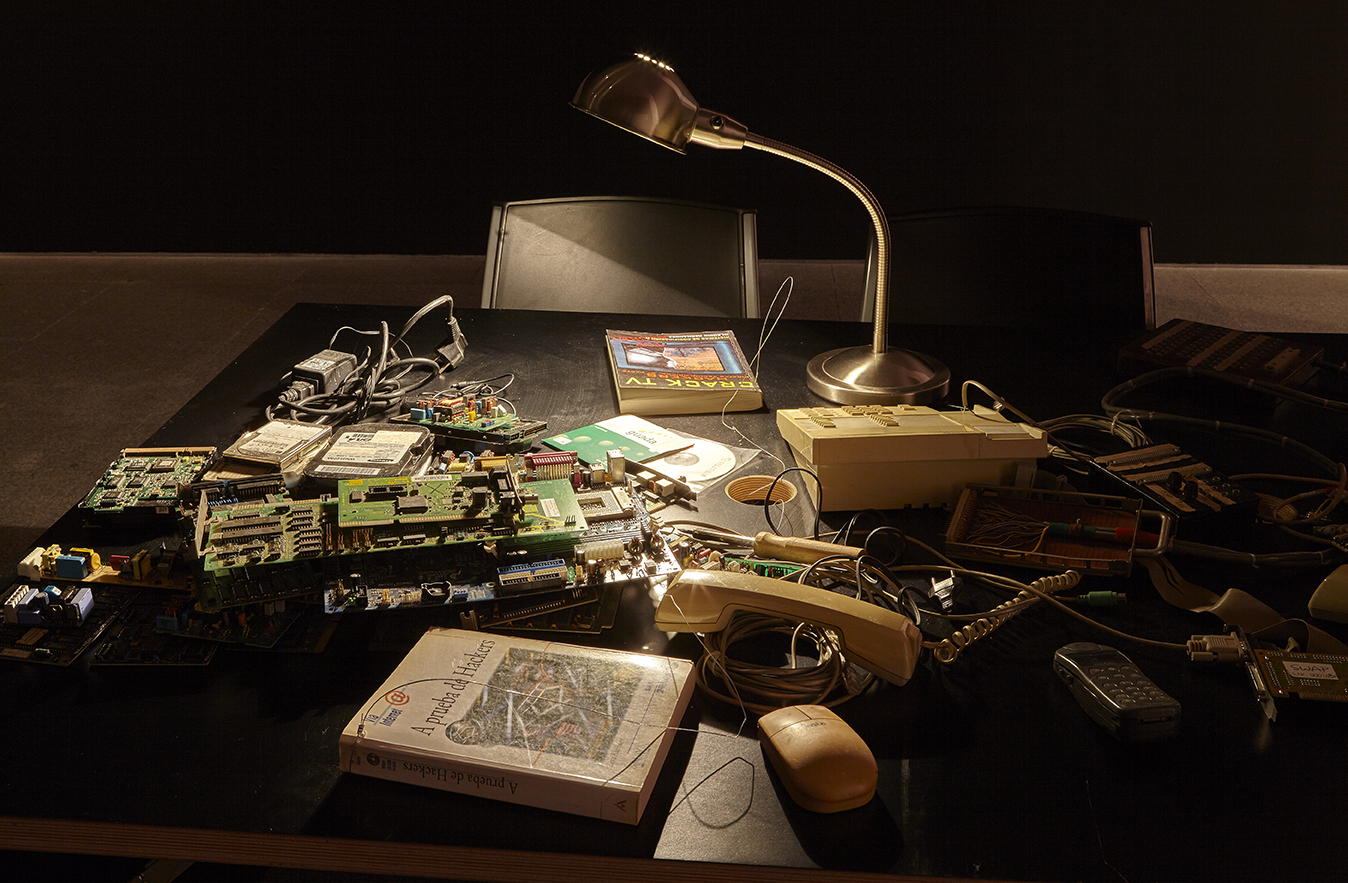 A*Desk 02 FEBRUARY 2015 JUANJO SANTOS The first solo exhibition of the year at the Museo Nacional Centro de Arte Reina Sofía is " Operating System", by Daniel García Andújar. A large selection of earlier works is being shown alongside new creations that continue to explore the link between new technologies and society, intervening between the public and the private. We talk with an artist who considers his work to be more collective than individual. Your exhibition could also have been called "Inoperative system". In fact I'm into these analogies, very black or white. I make a lot of references, as happened in "Postcapital", where I reduced language to colours, something symbolic but that is still there as part of the artistic language. In the artist's toolbox there are all the languages used during the history of art, it would be absurd not to use them. I make an almost reductive use in this type of analogy, in this case of red, white and black. I make these analogies, as in operating system, in order to establish parallels with the political system. In line with the language of hacking, there is an endeavour to seek out the failures of the system, through the bug, and once on the inside to improve or repair it; this search is for a more democratic system, for a much more horizontal system. Through the hole opened up by the bug enters exploit, the programme that can be damaging or beneficial. I work with this idea, in fact I always explain the paradox of the knife: If we film a scene with a close up, a certain type of lighting, use certain dramatic recourses of film and a knife appears, we think one thing. But if later a hand and Ferran Adrià appear, we'll be talking about cooking. Depending on how we use them, tools have one result or another. I'm in favour of a greater transparency and emancipation, and that what be criminalized be a bad use of this information. But they are criminalising or supervising us a priori, and don't let us function as an emancipated society. You mentioned there are errors in the system. Do you think the way to solve them is through the participation of society? Undoubtedly. When I began to develop these operating systems and software, I talked about an emancipated citizen in this sense. If instead of society as a shapeless mass we have individuals who are trained, with a good stock of educational and pedagogical culture, we'd have a better society. Here I draw a parallel with the Spanish empire of Philip II, when thanks to the printing press, the word, in this case of God, the Bible, begins to be disseminated. There is a wider access to certain information and its interpretation. It's there the developments began that led to the French Revolution, that first great emancipation of the bourgeoisie. I make an analogy with this huge divide that is currently forming, that ultimately is like a new social hierarchy, what in the 90's was called info-rich and info-poor. The digital divide is growing increasingly wider, adding to a divide that was already there.
JUANJO SANTOS
La primera exposición individual del año del Museo Nacional Centro de Arte Reina Sofía es "Sistema operativo", de Daniel García Andújar. Una gran selección de obras anteriores que se muestran junto a nuevas creaciones, que siguen indagando en el vínculo entre las nuevas tecnologías y la sociedad y la intervención de lo público y de lo privado. Hablamos con un artista que considera su trabajo como más colectivo que individual.
Tu exposición se podría haber llamado también "Sistema inoperativo".
En realidad soy mucho de estas analogías, muy de blanco o negro. Hago muchos guiños, como ya pasaba en "Postcapital", en el que reducía el lenguaje a los colores, algo muy simbólico pero que sigue estando ahí como parte del lenguaje artístico. En la caja de herramientas del artista están todos los lenguajes utilizados durante la historia del arte, sería absurdo no utilizarlos. Yo hago un uso casi reductor en este tipo de analogía, en este caso del rojo, el blanco y el negro. Y hago esas analogías, como con
sistema operativo
, también para establecer un paralelismo con el sistema político. Siguiendo el lenguaje hacker, hay un intento de buscar los fallos del sistema, a través del
bug
, para una vez dentro intentar mejorar o reparar el sistema; esa búsqueda de una sociedad más democrática, con un sistema mucho más horizontal.
Por el agujero abierto por el bug entra el exploit, el programa que puede dañar o beneficiar.
Trabajo con esa idea, de hecho siempre cuento la paradoja del cuchillo: Si grabamos una escena con un plano corto, un cierto tipo de iluminación, utilizamos ciertos recursos dramáticos del cine, y aparece un cuchillo, estamos pensando una cosa; pero si luego aparece una mano y Ferran Adrià, pues estaremos hablando de cocina. Dependiendo de cómo las utilicemos, las herramientas tienen un resultado u otro. Yo estoy a favor de una mayor transparencia y emancipación, y que lo que se criminalice sea el mal uso de esa información. Pero que a priori nos estén criminalizando o tutelando, no nos permite funcionar como sociedad emancipada.