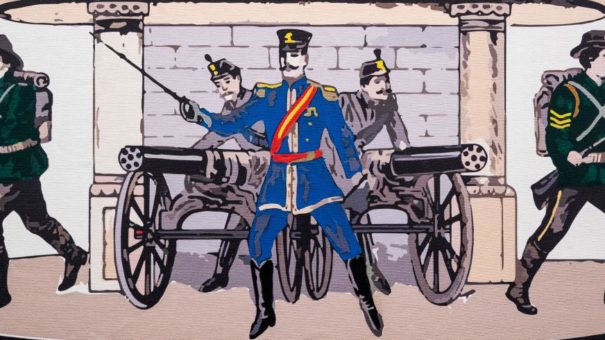 The artist's new works at La Virreina, Barcelona, predict that the culture industry will never be automated

BY Max Andrews


In 1996, Daniel G. Andújar, an early proponent of net art, founded Technologies To The People: a mock corporation that marketed advanced technology to the underprivileged while spoofing the visual tics and ersatz transparency of digital brands. Largely focusing on projects from the last five years, the artist's current exhibition at La Virreina Centre de la Imatge reveals that this double-edged concern with class hierarchies and utopian promises is still relevant today. Titled 'The Third Estate' – in reference to the medieval European term for common people – the show conflates past ideological struggles with the present and future of work, collective culture and propaganda.
In the first gallery, the phrase 'this is not a worker' has been written on the wall by a robotic plotter. Futurologists have predicted that almost half the jobs in high-wage economies are at risk of being replaced by automation and artificial intelligence within the next 20 years. Robot Scribit (2020) seems to ask – with reference to René Magritte's The Treachery of Images (1929) – whether our anxiety about the future relates less to new technology per se than to our search for someone to blame for this very sense of foreboding. Karl Marx looms large: The Communist Manifesto (2019) is a disconcerting video simulation of the philosopher's head as he reads his revolutionary 1848 analysis of capitalist modes of production like a silken-voiced, radical-policymaking Alexa.
Read more →