Lugar:
 Centro de Estudios y Documentación. Actividad gratuita. Plazas limitadas. El Centro de Estudios y Documentación MACBA, en su línea de reflexión en torno a la naturaleza de los archivos y su repercusión en la construcción de la memoria, presenta esta mesa redonda, enmarcada dentro del 
proyecto de investigación curatorial Human Rights / Copy Rights
, comisariado y editado por Cristián Gómez-Moya. Este proyecto se realizó en el Museo de Arte Contemporáneo (MAC) de la Universidad de Chile en 2011, y culminó con la publicación del libro 
Human Rights/Copy Rights. Visual Archives in the Age of Declassification
, en 2013 (VID-Creación, Universidad de Chile). El objeto de estudio de dicho proyecto han sido los aparatos de mediación visual de la memoria en el momento de la desclasificación de los archivos políticos vinculados a las postdictaduras latinoamericanas. Dentro de estos aparatos de mediación visual, podemos considerar el propio museo de arte contemporáneo, sus archivos y centros de documentación, así como también otras formas más sofisticadas, organizadas en torno a espacios virtuales de archivo o al comisariado de registros y documentos de arte. Ante los diversos métodos de desclasificación que se han venido ejerciendo a nivel mundial, esta discusión en torno al archivo de los derechos humanos en el campo del arte contemporáneo, se debe confrontar con sus distintos síntomas; especialmente con aquel que marca las formas de vida del documento o lo que algunos autores denominan el "devenir documento". La desclasificación de los documentos sobre derechos humanos permite, no solo conocer y recordar el pasado histórico-político inscrito en las ruinas de la memoria, sino que también facilita que dichos documentos cobren vida cada vez que se copian y reproducen desde las bases de datos online.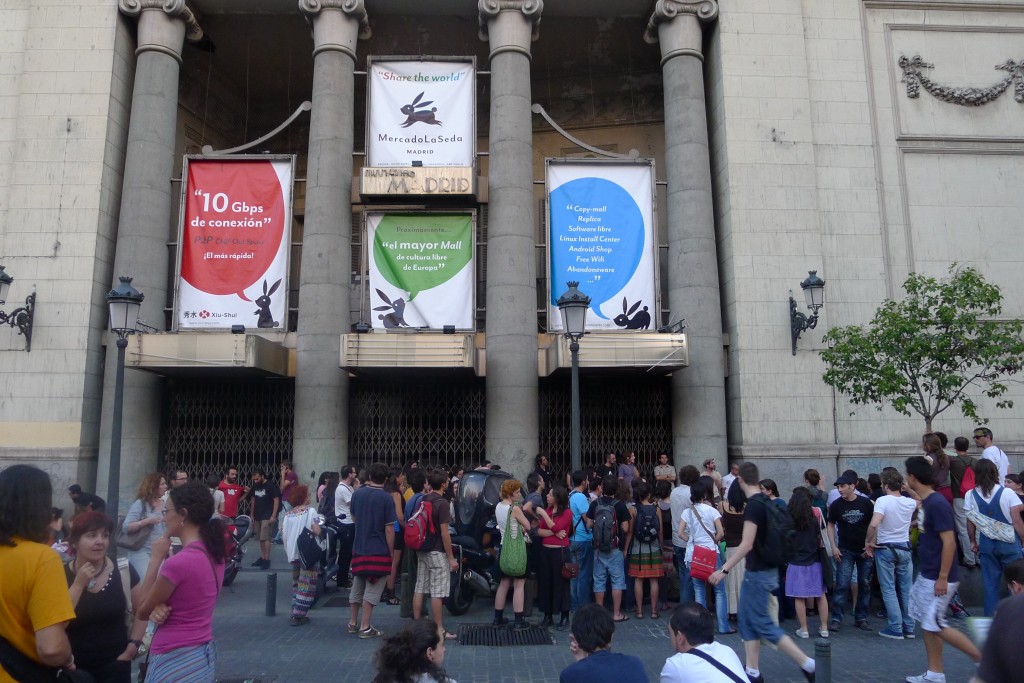 MADRID, 26 (EUROPA PRESS) La fachada de los clausurados Cines Madrid, situados en la Plaza del Carmen de la capital, lucen desde la pasada Noche en Blanco varios carteles anunciando la apertura en este espacio de 'El Mercado de la Seda', un futurible centro comercial destinado a la libre difusión de la cultura. En realidad, dicho mercado es ficticio y los carteles formaron parte de una de las actividades creativas de la Noche en Blanco 2010, celebrada el pasado mes de septiembre. El autor de este 'fake' es el artista visual Daniel García Andújar. Entonces, creó una página web en la que se anunciaba que el grupo chino Xiu-Shui tenía previsto convertir el edificio en un lugar físico donde pasear ante los escaparates de Spotify, Android, Mozilla Firefox, Skype, Ubuntu, Wikipedia, Creative Commons o entrar en un cine de Megaupload, entre otras novedades. También contarían con varias salas de proyección más pequeñas donde se podría ver cualquier episodio de cualquier serie en cualquier horario ofrecidos por Series Yonkis. También contarán con el espacio 'P2P Chill-Out Space', donde contarían con la conexión a Internet más rápida de Europa, en el que se pueden descargar toda clase de contenidos de la Web 2.0. "Porque cultura libre significa compartir el mundo y compartir el mundo significa cultura libre" dice el grupo Xiu-Shui", indica la supuesta empresa promotora. Por otro lado, en el imaginario mercado habría una planta de tiendas en 'Copy-Mall', es decir, de copias de importantes marcas de relojes, joyas, moda y complementos. Y es que Xiu Shui quiere decir 'mercado de la seda' en chino y se refiere a uno de los más importantes centros comerciales de falsificaciones de Pekín, donde el consumidor puede comprar buenas copias de grandes marcas a poco precio
Found Footage Hoy Gloria Vilches Según nuestro sistema legal, la apropiación audiovisual supone un choque frontal con los pilares fundamentales en los que se basa la ley de propiedad intelectual y los derechos de autor. En este apartado se expone esta ley, se definen sus conceptos básicos y se analizan sus límites. Se tratan también los nuevos tipos de licencias alternativas al copyright, como Creative Commons. Se exponen las diferentes opciones que tiene un artista a la hora de plantearse hacer una obra de metraje apropiado (como pedir permiso o recurrir a obras de dominio público) y los argumentos que podrían esgrimirse para legitimar esta práctica. Por último, se analiza una serie de piezas que expresan la actitud de sus creadores frente a estas cuestiones legales. Obras estudiadas: Warnings (Antoni Muntadas, 1988), créditos finales de Miralls (Gerard Gil, 2006), Light (Cristina Arrazola-Oñate, 2008) y Copyright is for losers (Ninotschka Art Project, 2008). La propiedad intelectual se estableció con el fin de que quienes produjeran creaciones originales literarias, artísticas o científicas pudieran, por un lado, obtener un rendimiento económico de sus creaciones (derecho de explotación) y, por otro, pudieran controlar la forma en que sus obras se utilizaran (derechos morales). En España, estos derechos están regulados por la Ley de propiedad intelectual de 1996, con las modificaciones de la reforma de ley aprobada el 20 de julio de 2006.
Daniel G. Andújar Exit Express nº38 Octubre 2008 El Arte, como cualquier otro proceso cultural, es básicamente un proceso de transmisión, de transferencia, de diálogo continuo, permanente y necesario. En ocasiones olvidamos que este proceso implica transgresión, ruptura, ironía, parodia, usurpación, confrontación, investigación, exploración, interrogación, contestación y, por supuesto, también apropiación. La práctica de la apropiación se ha convertido en una parte fundamental de muchas actividades culturales creativas y forman parte de una larga tradición bien documentada en la Historia del Arte. No podemos abrir un libro sobre Arte Moderno y Contemporáneo sin encontrarnos con alguna forma de apropiación. La capacidad del apropiacionismo no sólo ha cambiado nuestra forma de hacer arte, ha cambiado la forma en que vemos el mundo. Y, sin embargo, vemos que esta forma de creatividad, esta herramienta del arte, se ve amenazada por absurdas regulaciones que incluso de forma preventiva pretenden impedir la investigación de nuevas formas de expresión.
Art in the Age of Intellectual Property PHOENIX Halle Dortmund, July 19 - October 19, 2008
'You can't use it without my permission ... I'm gonna sue your ass!' shouts Disney's Little Mermaid with the angry voice of a copyright lawyer in the video Gimme the Mermaid (4:49 min., 2000). The video by Negativland and Tim Maloney, situated at the exhibition entrance, is only one of more than twenty works included in 'Anna Kournikova Deleted By Memeright Trusted System: Art in the Age of Intellectual Property', an exhibition presented by Hartware MedienKunstVerein (HMKV) It is part of Arbeit 2.0 – copyright and creative work in the digital age, one of thirteen projects in Germany funded by the German Federal Cultural Foundation focusing on 'The Future of Labour.' In the framework of Arbeit 2.0, HMKV – together with the Berlin-based collaborative partner iRights.info/mikro e.V. – explores the relationships between creative work, intellectual property law, and technology (www.iRights.info).
Daniel G. Andújar Siguiendo el buen ejemplo de la sociedades capitalistas desarrolladas, la actividad terciaria, la prestación de servicios, se ha convertido en uno de los sectores clave de la economía de este país (España). Diría más, los servicios de ocio y turismo se han convertido en una necesidad, hasta el punto de convertirse en la principal fuente de divisas y en el motor económico que alimenta toda una nueva idiosincrasia. Es un papel en perfecta armonía con la fuerza dinámica de la economía global que asumimos de forma colectiva con cierto conformismo ¿Quién no se ha sentido alguna vez en este país, o ha ejercido directamente, de guía turístico o camarero? Nos viene en el DNI (Documento Nacional de Identidad). Nuestra disposición para el servicio es puesta a prueba con cierta periodicidad ya que en reiteradas ocasiones nos vemos obligados a ejercer de guías ocasionales para familiares, conocidos y amigos que vienen de visita y necesitan del perfecto anfitrión que los oriente por el complejo y fascinante mundo de la tapa, el flamenco, la paella, la cala, la ruina, el museo, la catedral, etc., según afinidades y naturaleza del visitante, guía y lugar en concreto. Nos convertimos en mediadores ocasionales filtrando de forma subjetiva la información que conforma parte de nuestra realidad más inmediata, y lo hacemos de forma automática, casi profesional, sin darnos cuenta, destilamos la realidad a nuestro antojo, de acuerdo a nuestras preferencias. Y cuento todo esto porque en una de estas jugadas, me vi 'obligado' a acompañar a una amiga investigadora hasta la capital del Reino, donde debería orientarla, fundamentalmente, en una investigación que estaba llevando a cabo en torno a la cultura del archivo y que pronto verá la luz con forma de ensayo en la lengua franca de la sociedad de la información, el inglés. Guiar, manipular, interpretar, filtrar, condicionar, orientar, mediar, priorizar, jerarquizar… todo lo que trato de combatir sin éxito alguno, demasiado poder, hasta para un amigo.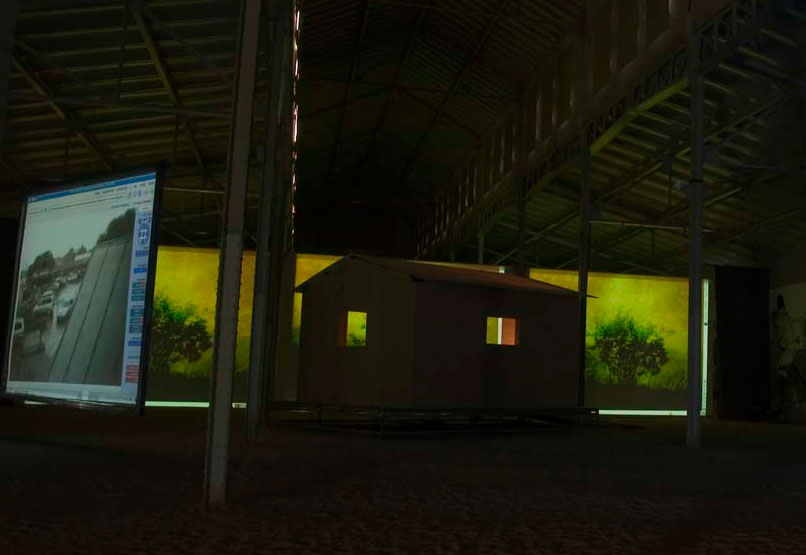 by Álvaro de los Ángeles, 2006 Arcades first appeared in Paris in the first third of the nineteenth century and became increasingly commonplace, as Walter Benjamin points out, with the growth of the textile trade, which marked the beginning of a hitherto unknown relationship between the inhabitant as a customer/buyer (user) and the city. Glass, iron, overhead light and artificial lighting -"The arcades were the setting for the first gas lighting,"' wrote Benjamin- covered entire blocks of buildings. This new architectural concept was in keeping with the period of change and the industrial revolution it formed part of. However, it also represented the ubiquity of a city inside a larger city, a clear attempt to create a "new" world inside a known one, while evoking the ideals of progress and well-being, albeit founded on a virtual idea, unreal or unattainable, that the physical and tangible world no longer seemed capable of generating or achieving.
[Essay] Jacob Lillemose fortæller i dette essay om Daniel Garcia Andújars installation X-Devian. The New Technologies To The People System og om baggrunden for dette værk Af Jacob Lillemose Foto: Århus Kunstbygning
Udstillingen X-Devian. The New Technologies To The People System blev vist i Århus Kunstbygning fra 12. maj til 10. juni 2007 www.aarhuskunstbygning.dk
Udstillingsbillede fra Århus Kunstbygning
The New Technologies To The People® System By Jacob Lillemose In 1999, when the art and technology festival Ars Electronica awarded The Golden Nica, first prize in the ".net" category, to the programmer Linus Torvalds for his development of the Linux operating system, it was pointing in general to the relationship between free software and art, and more specifically to the affinity between free software and that part of contemporary art which is concerned with software's constantly increasing influence on social, economic and political conditions. Like Linux, this part of contemporary art works against the proprietary software industry's standardization, repression and rationalization of the software culture, and instead explores alternate possibilities for freeing the software culture through more open, expressive and speculative processes. On a more indirect level, Ars Electronica's choice of Linux also emphasized another relationship between free software and this contemporary art, i.e. the idea informing both that software is not just a question of programming, but of producing culture - of understanding and using technology as a means of engaging in a social context. According to the founder of the Free Software Foundation (FSF) Richard Stallman, free software is about "practical material advantages" but also about "what kind of society we want to live in, and what constitutes a good society". 1 Stallman himself imagines an extremely collective and creative society founded on the freedom to "use, study, copy, modify and redistribute software". For him, the free software's fundamental abolishment of intellectual property rights represents a chance to structurally and conceptually "reprogram" society for the better, and this is an opinion he shares with much of contemporary art.