Más de 80 creadores utilizan las técnicas de la publicidad aérea para protestar contra la política migratoria de EE.UU. Andy Robinson | Los angelesLos Ángeles 13/07/2020 00:00Actualizado a 14/07/2020 03:42 El cielo es el lienzo más grande que un artista pueda imaginar.
La Galería Proceso / Arte Contemporáneo de la Casa de la Cultura, Núcleo del Azuay, Cuenca (Ecuador). Invita a la exposición  HIC ET NUNC. Sobre paradojas democráticas Curaduría Imma Prieto Carrillo Artistas: Eugenio Ampudia, María Cañas, Jordi Colomer, Marta de Gonzalo y Publio Pérez, Jorge García, Daniel G.
Artistas : Daniel G. Andújar, Eugenio Ampudia, María Cañas, Mateo Maté, Chus García-Fraile, Jordi Colomer, PSJM, Avelino Sala, Marta de Gonzalo y Publio Pérez, Núria Güell, Jorge García,  Pelayo Varela
Comisariado por: Imma Prieto
17 mayo, 2013 @ 17:00 – 18:30
Lugar:
Fundació Antoni Tàpies Carrer d'Aragó 255,08007 Barcelona España
Screening con la presencia de la comisaria y de alguno de los artistas.
On Unease at Beholding the City May 17 – July 29, 2012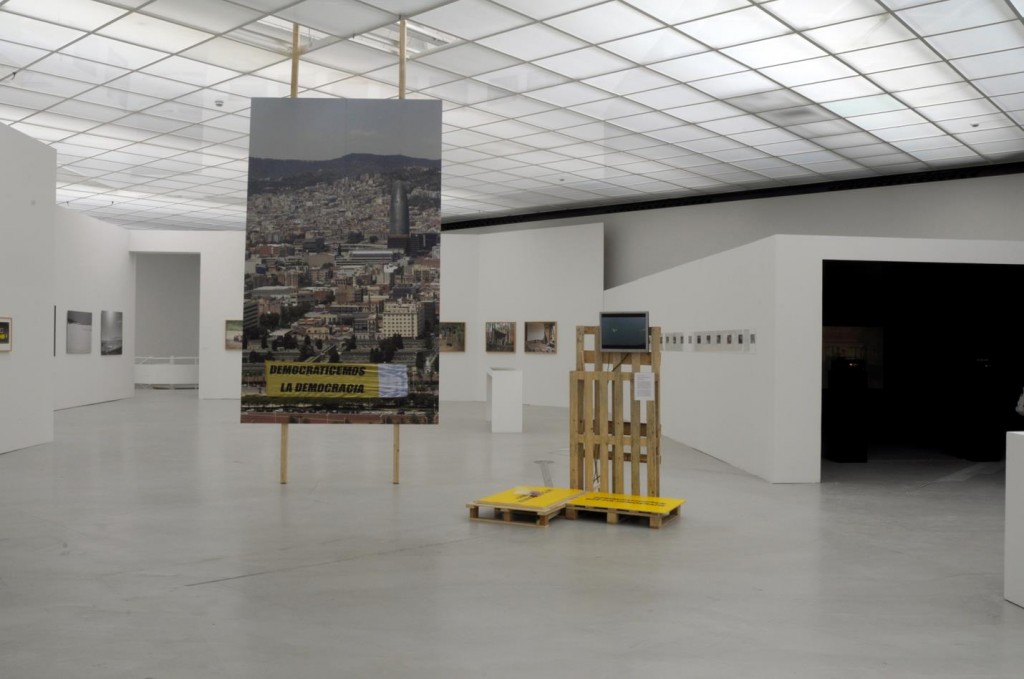 Daniel García Andújar, Yvonne P. Doderer / Ute Meta Bauer, Martin Eberle, Michael Fehr / Diethelm Koch, Ludger Gerdes, Kirill Golovchenko, Eiko Grimberg, Justin Hibbs, Jung Yeondoo, Lim Minouk, Noh Suntag, Alfons Pressnitz, Malwine Rafalski, John Smith, Klaus Staeck, The RSA, Tuomas Toivonen / Nene Tsuboi, Brian Ulrich, Michael Vahrenwald, Pablo Wendel, Matthias Zielfeld and others From May 17 to July 29, 2012 the Württembergischer Kunstverein will be showing
Oh, My Complex: On Unease at Beholding the City
, an exhibition that approaches the imaginaries, representations, and realities of the city from different directions: from the angle of architectural and urban constructions of the nineteen-thirties through today; from Europe, the USA, South America, and Asia; from the perspectives of art, exhibition, pop, and protest cultures starting from the seventies. Along an open parcourse, which connects exterior and interior space, the exhibition presents the works of over twenty artists who have honed in on the urban-development, social, political, and economic lines of conflict within the city. Their works touch upon historical documents and objects from pop- and sub-culture contexts. Presented are not only existing works, but also those conceptualized especially for this setting.
Tras años de individualismo en el mundo del arte, del más refinado al más pop, y del largo reinado de la generación yo al amparo de Internet, vuelve el combate social. Creadores y activistas se enfrentan a políticos, banqueros y leyes. Sigue habiendo teoría, pero manda la práctica. La cultura pasa a la acción. VÍCTOR LENORE 03/06/2011 El País 20110603elpten pdf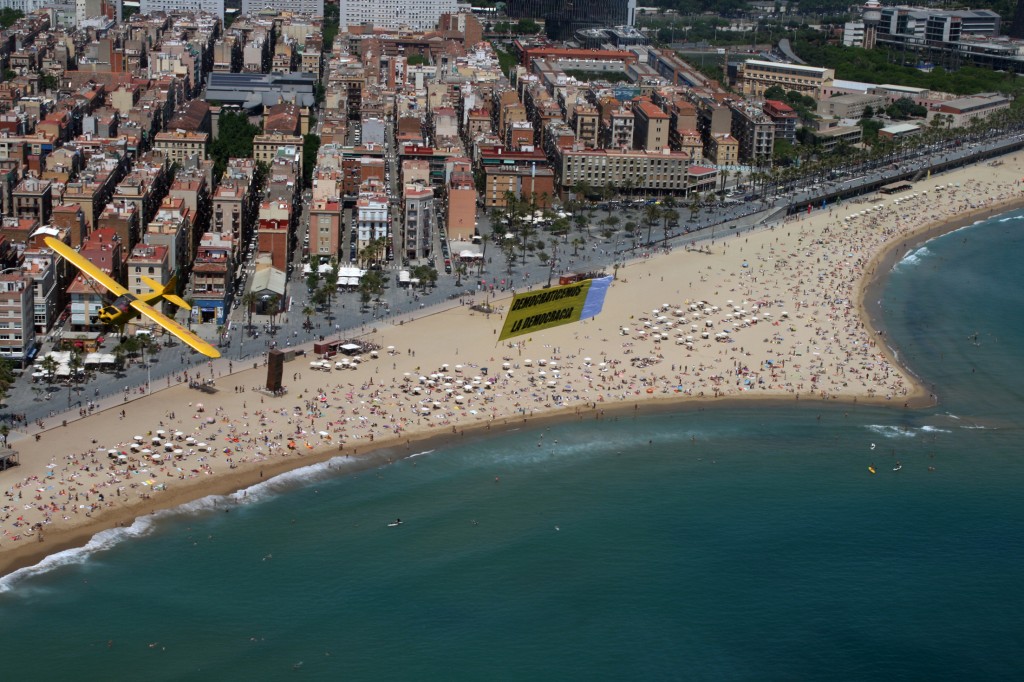 El periodista Guillem Martínez es el padre de un concepto cada vez más utilizado: la Cultura de la Transición. Resumiendo mucho, viene a significar que desde los años ochenta la izquierda española prefirió evitar cualquier tipo de conflictos (culturales, políticos o generacionales) en favor del consenso y la paz social. Treinta años después, el hechizo parece haberse roto debido al Movimiento 15-M, que cosechó el mes pasado un triunfo arrollador al ocupar las plazas de grandes ciudades con decenas de miles de personas. UNA GUERRA CONTRA LA 'LEY SINDE' ARTE PARA LIBERAR LA DEMOCRACIA MANUAL DE AUTODEFENSA BANCARIA HIMMLER SOBRE PAZ VEGA Tras años de consumismo narcisista, muchos creadores vuelven a hablar de inteligencia colectiva, se mezclan con los movimientos sociales y huyen de los escaparates artísticos. Los contenidos se difunden mejor desde la calle o Internet que dentro del museo más moderno y prestigioso. Saben que la ciudad no es exactamente suya: hay que disputar el espacio público a la avalancha publicitaria y a los acontecimientos festivos precongelados, ya sea una boda real, La Noche en Blanco o una celebración futbolera. ¿Estamos viviendo el fin de una era?.
Ver a vuelo de pájaro Barcelona en un mapa más grande Este proyecto requiere participación. A VUELO DE PÁJARO "La ligera paloma, que siente la resistencia del aire que surca al volar libremente, podría imaginarse que volaría mucho mejor aún en un
Archivo pdf: Democraticemos la Democracia!, Creative Commons Gracias por la participación. Puedes seguir enviando materiales a: participo@localizacion.org
Un proyecto de Daniel G. Andújar / Technologies To The People, 2011 Participa el Día Internacional de los Trabajadores, Primero de Mayo ! Salida del Los Martinez del Puerto, Murcia: 10:00 Llegada a Torrevieja: 10:25 Llegada a Santa Pola: 10:50 Llegada a Alicante: 11:15 Llegada