Más de 80 creadores utilizan las técnicas de la publicidad aérea para protestar contra la política migratoria de EE.UU. Andy Robinson | Los angelesLos Ángeles 13/07/2020 00:00Actualizado a 14/07/2020 03:42 El cielo es el lienzo más grande que un artista pueda imaginar. No solo por su tamaño, ilimitado, sino por su simbolismo: del cielo han llegado los mensajes más importantes para la Humanidad, de él han caído plagas y a él han dirigido los hombres sus más profundas súplicas. A ojos del espectador, no parece que nada que aparezca allí, junto a las nubes, pueda ser banal. Hace unos días, lo utilizaron ochenta creadores para protestar contra la política migratoria de Estados Unidos. En pleno auge del 15-M, hace ya nueve años, el valenciano Daniel G.Andújar hizo que dos avionetas sobrevolaran las playas de Barcelona con un mensaje en un cartel: "Democraticemos la democracia". ¿Es el cielo el nuevo museo en tiempos de pandemia? En Los Ángeles, a un tiro de piedra del icónico auditorio Walt Disney de Frank Gehry y del Museo de Arte Contemporáneo de Arata Isozaki , hay un edificio futurista de diez plantas, que parece otro ejemplo de la gentrificación posmoderna. Pero las ventanas son demasiado estrechas para un
La Galería Proceso / Arte Contemporáneo de la Casa de la Cultura, Núcleo del Azuay, Cuenca (Ecuador). Invita a la exposición  HIC ET NUNC. Sobre paradojas democráticas Curaduría Imma Prieto Carrillo Artistas: Eugenio Ampudia, María Cañas, Jordi Colomer, Marta de Gonzalo y Publio Pérez, Jorge García, Daniel G. Andújar, Chus García-Fraile, Núria Güell, Mateo Maté, PSJM, Avelino Sala y Pelayo Varela. Miércoles 17 de julio 2013 19h00 Galería Proceso / Arte Contemporáneo (Luis Cordero 7-22 y Presidente Córdova, Cuenca, Ecuador.) Hic et Nuc es un proyecto curatorial que acoge una selección de artistas que permite dilucidar como el arte se erige como acción simbólica de resistencia antes los desagravios que caracterizan a nuestra sociedad. Hic et Nuc (Aquí y Ahora), propone mirar y ver sin complejos. Doce obras audiovisuales que dan respuestas a un Cúmulo de desigualdades sociales y humillaciones políticas, ofreciendo una interpretación abierta de lo político, partiendo de la acepción del zoón politikón (animal político) aristotélico. La suma de todas las obras responde de un modo directo al planteamiento conceptual. Cada una de ellas se dirige a un espacio temporal reconocible, familiar. Desde trabajos de tamiz poético como el de Eugenio Ampudia o Pelayo Varela, pasando por acciones concretas como las de Núria Güell. Jordi Colomer, Mateo Maté o Daniel G. Andújar, hasta
Artistas : Daniel G. Andújar, Eugenio Ampudia, María Cañas, Mateo Maté, Chus García-Fraile, Jordi Colomer, PSJM, Avelino Sala, Marta de Gonzalo y Publio Pérez, Núria Güell, Jorge García,  Pelayo Varela
Comisariado por: Imma Prieto
17 mayo, 2013 @ 17:00 – 18:30
Lugar:
Fundació Antoni Tàpies Carrer d'Aragó 255,08007 Barcelona España
Screening con la presencia de la comisaria y de alguno de los artistas.
On Unease at Beholding the City May 17 – July 29, 2012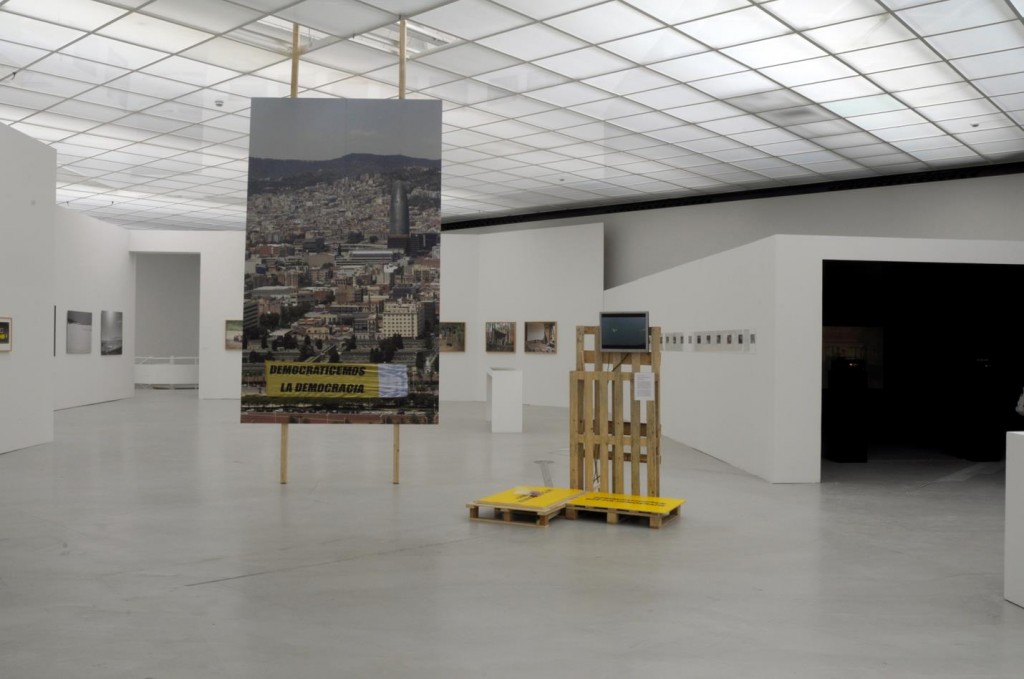 Daniel García Andújar, Yvonne P. Doderer / Ute Meta Bauer, Martin Eberle, Michael Fehr / Diethelm Koch, Ludger Gerdes, Kirill Golovchenko, Eiko Grimberg, Justin Hibbs, Jung Yeondoo, Lim Minouk, Noh Suntag, Alfons Pressnitz, Malwine Rafalski, John Smith, Klaus Staeck, The RSA, Tuomas Toivonen / Nene Tsuboi, Brian Ulrich, Michael Vahrenwald, Pablo Wendel, Matthias Zielfeld and others From May 17 to July 29, 2012 the Württembergischer Kunstverein will be showing
Oh, My Complex: On Unease at Beholding the City
, an exhibition that approaches the imaginaries, representations, and realities of the city from different directions: from the angle of architectural and urban constructions of the nineteen-thirties through today; from Europe, the USA, South America, and Asia; from the perspectives of art, exhibition, pop, and protest cultures starting from the seventies. Along an open parcourse, which connects exterior and interior space, the exhibition presents the works of over twenty artists who have honed in on the urban-development, social, political, and economic lines of conflict within the city. Their works touch upon historical documents and objects from pop- and sub-culture contexts. Presented are not only existing works, but also those conceptualized especially for this setting.
Tras años de individualismo en el mundo del arte, del más refinado al más pop, y del largo reinado de la generación yo al amparo de Internet, vuelve el combate social. Creadores y activistas se enfrentan a políticos, banqueros y leyes. Sigue habiendo teoría, pero manda la práctica. La cultura pasa a la acción. VÍCTOR LENORE 03/06/2011 El País 20110603elpten pdf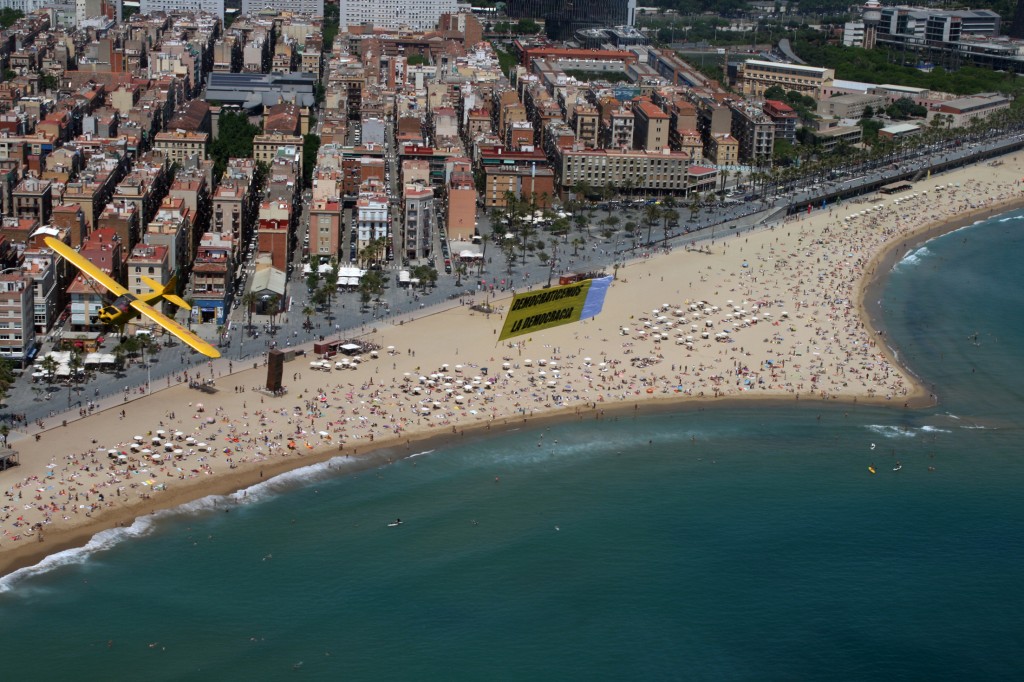 El periodista Guillem Martínez es el padre de un concepto cada vez más utilizado: la Cultura de la Transición. Resumiendo mucho, viene a significar que desde los años ochenta la izquierda española prefirió evitar cualquier tipo de conflictos (culturales, políticos o generacionales) en favor del consenso y la paz social. Treinta años después, el hechizo parece haberse roto debido al Movimiento 15-M, que cosechó el mes pasado un triunfo arrollador al ocupar las plazas de grandes ciudades con decenas de miles de personas. UNA GUERRA CONTRA LA 'LEY SINDE' ARTE PARA LIBERAR LA DEMOCRACIA MANUAL DE AUTODEFENSA BANCARIA HIMMLER SOBRE PAZ VEGA Tras años de consumismo narcisista, muchos creadores vuelven a hablar de inteligencia colectiva, se mezclan con los movimientos sociales y huyen de los escaparates artísticos. Los contenidos se difunden mejor desde la calle o Internet que dentro del museo más moderno y prestigioso. Saben que la ciudad no es exactamente suya: hay que disputar el espacio público a la avalancha publicitaria y a los acontecimientos festivos precongelados, ya sea una boda real, La Noche en Blanco o una celebración futbolera. ¿Estamos viviendo el fin de una era?.
Ver a vuelo de pájaro Barcelona en un mapa más grande Este proyecto requiere participación. A VUELO DE PÁJARO "La ligera paloma, que siente la resistencia del aire que surca al volar libremente, podría imaginarse que volaría mucho mejor aún en un espacio vacío" Immanuel Kant, Crítica de la razón pura (1787) Tomando la metáfora de Kant, podríamos decir que los procesos de participación permiten volar a la democracia, aunque si se truncan o se pervierten, el sistema entero puede estrellarse o no levantar vuelo hacia ningún destino. A vuelo de pájaro, es un evento participativo propuesto por el artista DANIEL G. ANDÚJAR (Almoradí, Alicante, 1966), quién iniciará un vuelo publicitario el domingo 22 de mayo de 13:00 a 14:00 horas. El itinerario arrancará desde La Barceloneta, recorriendo el litoral barcelonés hasta las playas de Badalona. Si estás en uno de estos lugares, el día indicado, puedes participar en el proyecto enviando cualquier tipo de documentación audiovisual del itinerario (y entorno) del vuelo. Tus grabaciones, filmaciones y fotografías, realizadas mediante el dispositivo que prefieras (cámaras, teléfonos móviles, vídeos, equipos de sonido, etc.) serán recogidas en la página web de la propuesta y construirán el fondo documental del vuelo. El cielo también tiene sus plazas. Enviar material: participo@localizacion.org Twitter: #avuelodepajaro http://localizacion.org Flyer Democraticemos la Democracia
Archivo pdf: Democraticemos la Democracia!, Creative Commons Gracias por la participación. Puedes seguir enviando materiales a: participo@localizacion.org
Un proyecto de Daniel G. Andújar / Technologies To The People, 2011 Participa el Día Internacional de los Trabajadores, Primero de Mayo ! Salida del Los Martinez del Puerto, Murcia: 10:00 Llegada a Torrevieja: 10:25 Llegada a Santa Pola: 10:50 Llegada a Alicante: 11:15 Llegada a Benidorm: 11:45 http://www.localizacion.org/