25. feb. 2008 KUNST [Omtale] På udstillingen Close Window. Refresh vises videoer fra 6 internationale kunstnere på Senkos facadevindue og www.senko.dk. Af CM
Temaet er vinduet som skel mellem det private liv indenfor og det offentlige rum udenfor, men det er samtidig en overvejelse omkring internettets daglige indflydelse på os. Hver kunstner bidrager med én video, og de får hver 3 ugers spilletid. De 6 kunstnere er Mogens Jacobsen, Erik Olofsen, Taeyoon Choi, Hrafnkell Sigurdsson, Sachiko Hayashi og Daniel G. Andújar.
Valencia acoge del 5 al 15 marzo unos encuentros internacionales sobre gestión y creación artística independiente ORGANIZA: LaTejedora CCEC COORDINA: Juanli Carrión y Lorenzo Sandoval www.latejedoraccec.org/ie Las jornadas de debate tendrán lugar del 5 al 8 de marzo en el MUViM y se articulan en cuatro líneas de fuerza. Su estructura combina las ponencias de antropólogos, filósofos, artistas, profesores y críticos, que participarán en las distintas sesiones a lo largo del día, con los foros de la tarde, con representantes de diversos colectivos de creación y gestión artística. Estas líneas de fuerza girarán en torno a planteamientos como los modelos de educación del arte, las prácticas artísticas independientes, o los nuevos espacios que suponen las comunidades en red. Entre los colaboradores, se cuentan especialistas como Félix Duque, Manuel Delgado, Joaquín Ivars , Daniel G Andújar o Jorge Luis Marzo, así como los siguientes colectivos, entre otros: Basurama, YP, Democracia, Amasté, La Casa Invisible o Zemos98.
Frame Project presents Close Window. Refresh International Video Exhibition Works by Mogens Jacobsen, Erik Olofsen, Sachiko Hayashi, Taeyoon Choi, Hrafnkell Sigurdsson and Daniel G. Andújar Curator: Annette Finnsdottir 23.02.2007-28.06.2008 Starts the 23rd of February from 19-21 last day the 28th of June 2008 Sct. Mathiasgade 35 D, 8800 Viborg, Denmark 004540627154 www.senko.dk The window is seen as the borderline between inside and outside, between the private and the public domain, but also as the transparence between these spheres. This exhibition presents the digital transmission to the urban pulse and image by showing the videos in the big front window of Senko Studio in Viborg. Simultanously the videos are shown 'full screen' at www.senko.dk.
Daniel G. Andújar Siguiendo el buen ejemplo de la sociedades capitalistas desarrolladas, la actividad terciaria, la prestación de servicios, se ha convertido en uno de los sectores clave de la economía de este país (España). Diría más, los servicios de ocio y turismo se han convertido en una necesidad, hasta el punto de convertirse en la principal fuente de divisas y en el motor económico que alimenta toda una nueva idiosincrasia. Es un papel en perfecta armonía con la fuerza dinámica de la economía global que asumimos de forma colectiva con cierto conformismo ¿Quién no se ha sentido alguna vez en este país, o ha ejercido directamente, de guía turístico o camarero? Nos viene en el DNI (Documento Nacional de Identidad). Nuestra disposición para el servicio es puesta a prueba con cierta periodicidad ya que en reiteradas ocasiones nos vemos obligados a ejercer de guías ocasionales para familiares, conocidos y amigos que vienen de visita y necesitan del perfecto anfitrión que los oriente por el complejo y fascinante mundo de la tapa, el flamenco, la paella, la cala, la ruina, el museo, la catedral, etc., según afinidades y naturaleza del visitante, guía y lugar en concreto. Nos convertimos en mediadores ocasionales filtrando de forma subjetiva la información que conforma parte de nuestra realidad más inmediata, y lo hacemos de forma automática, casi profesional, sin darnos cuenta, destilamos la realidad a nuestro antojo, de acuerdo a nuestras preferencias. Y cuento todo esto porque en una de estas jugadas, me vi 'obligado' a acompañar a una amiga investigadora hasta la capital del Reino, donde debería orientarla, fundamentalmente, en una investigación que estaba llevando a cabo en torno a la cultura del archivo y que pronto verá la luz con forma de ensayo en la lengua franca de la sociedad de la información, el inglés. Guiar, manipular, interpretar, filtrar, condicionar, orientar, mediar, priorizar, jerarquizar… todo lo que trato de combatir sin éxito alguno, demasiado poder, hasta para un amigo.
Exposición expandida en el territorio | Segunda parte
Del 14 de febrero al 30 de marzo de 2008 Inauguración: jueves 14 de febrero. 19h. Centre Cultural El Casino. Manresa www.idensitat.org
Local | Visitante 2: Manresa es la segunda propuesta de un ciclo de tres exposiciones que se desarrollan desde diciembre de 2007 a marzo de 2008 en cada una de las poblaciones vinculadas al proyecto IDENSITAT07. El concepto es el de una exposición expandida en el territorio. Con el conjunto de las cuatro exposiciones se podrán visualizar los distintos proyectos y actividades que IDENSITAT desarrolla en su actual edición, así como cada una de las exposiciones sirve también como marco para dinamizar actividades específicas en las distintas poblaciones, como son proyectos educativos, workshops, sesiones de debate, entre otras iniciativas. Proyectos: RESONANCIA MANRESA Sinapsis [Cristian Añó, Lídia Dalmau] FICHERO + FEMZINE MANRESA Pripublikarrak [Aiora Kintana, Olaia Miranda, María Mur, Oihane Ruiz] MIS FAMOSOS Atsuko Arai DELACALLE F.C. Fernanda Arandia, Katleen Arthen, Pedro Dias, Verónica Mansilla, David Sandoval, Joana Sarmento, Rosanna Vitiello E-IDENSITAT Laboratorio de los medios Daniel García Andújar CITY AT A GLANCE Signs of the City PLEASED TO MEET YOU Álbum de fotos de Calaf Nicolás Dumit Estévez DESPUÉS DE LAS PALABRAS Lucía Acedo, Paul Galindo, Ophélie Herranz, Carlos Mínguez OBJETOS DE INTERPRETACIÓN ESPACIAL Carme Nogueira
Organizado por: Área de Arte de la Universidad Europea de Madrid Off Limits Comisarios: Joaquín Ivars y Domingo Mestre Equipo investigador: Alberto Chinchón, Joaquín Ivars y Daniel Villegas We didn't start the fire, 25 enero al 16 febrero InterACCIONES ELECTORALES, 23 febrero al 8 de marzo, Inauguración 23F www.interaccioneselectorales.org www.offlimits.es
InterACCIONES ELECTORALES es una exposición con carácter de work in progress que se origina en el proyecto de investigación del Área de Arte de la Universidad Europea de Madrid titulado Artes de acción y mecanismos y convocatorias electorales. En el espacio OFF LIMITS se muestran tanto los resultados provisionales del análisis histórico de las relaciones entre artes de/en acción y elecciones como la presentación de trabajos realizados expresamente para esta exposición en el marco de la campaña electoral de las próximas Elecciones Generales del nueve de marzo. En el marco de los estudios sobre la producción social del arte, el análisis y la interpretación de las relaciones entre el arte y la política son actividades bastante frecuentes. No obstante, dentro de este marco general existe un ámbito que no ha sido estudiado específicamente todavía -al menos no en el Estado español-, y que es el de la relación del arte con las convocatorias electorales, tanto en las democracias formales como en las autocracias representativas. Desde uno de los grupos de investigación* del Área de Arte de la Universidad Europea de Madrid se están analizando estas relaciones a través del proyecto titulado Artes de acción y mecanismos y convocatorias electorales. Los primeros resultados de esta investigación constituyen el germen de la exposición que se presenta el 23 de febrero en Off Limits.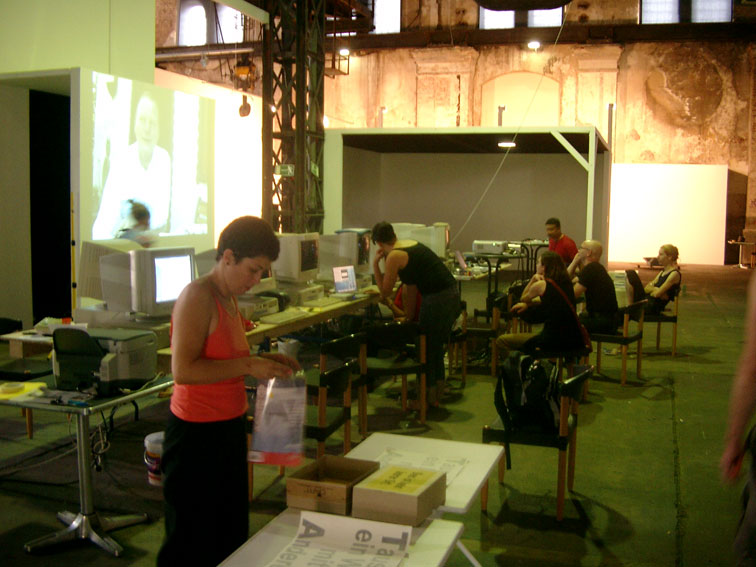 Herramientas del arte. Relecturas Encuentro/taller teórico-práctico dirigido por Daniel G. Andújar y Rogelio López Cuenca Departamento de Escultura, Facultad de Bellas Artes de Valencia 3, 4 y 5 de marzo de 2008 Herramientas del arte. Relecturas Un proyecto de Álvaro de los Ángeles con Isidoro Valcárcel Medina, Rogelio López Cuenca y Daniel García Andújar Sala Parpalló, junio-septiembre de 2008 El proyecto expositivo Herramientas del arte. Relecturas quiere ayudar a definir el concepto de herramienta en el arte contemporáneo planteándolo desde la noción de relectura, que aquí debemos entender como aquello que volvemos a leer, pero que no es tanto revisionismo como cuestionamiento, de nuevo, del propio medio. La intención es ubicarse en la fina línea que separa el arte de un número importante de materias sociales a las que acude en busca de base teórica sólida, de información que le sirva como puente entre campos de conocimiento o que simplemente emplea como motivo necesario que le distancie de la mera representación.