Daniel G. Andújar Siguiendo el buen ejemplo de la sociedades capitalistas desarrolladas, la actividad terciaria, la prestación de servicios, se ha convertido en uno de los sectores clave de la economía de este país (España). Diría más, los servicios de ocio y turismo se han convertido en una necesidad, hasta el punto de convertirse en la principal fuente de divisas y en el motor económico que alimenta toda una nueva idiosincrasia. Es un papel en perfecta armonía con la fuerza dinámica de la economía global que asumimos de forma colectiva con cierto conformismo ¿Quién no se ha sentido alguna vez en este país, o ha ejercido directamente, de guía turístico o camarero? Nos viene en el DNI (Documento Nacional de Identidad). Nuestra disposición para el servicio es puesta a prueba con cierta periodicidad ya que en reiteradas ocasiones nos vemos obligados a ejercer de guías ocasionales para familiares, conocidos y amigos que vienen de visita y necesitan del perfecto anfitrión que los oriente por el complejo y fascinante mundo de la tapa, el flamenco, la paella, la cala, la ruina, el museo, la catedral, etc., según afinidades y naturaleza del visitante, guía y lugar en concreto. Nos convertimos en mediadores ocasionales filtrando de forma subjetiva la información que conforma parte de nuestra realidad más inmediata, y lo hacemos de forma automática, casi profesional, sin darnos cuenta, destilamos la realidad a nuestro antojo, de acuerdo a nuestras preferencias. Y cuento todo esto porque en una de estas jugadas, me vi 'obligado' a acompañar a una amiga investigadora hasta la capital del Reino, donde debería orientarla, fundamentalmente, en una investigación que estaba llevando a cabo en torno a la cultura del archivo y que pronto verá la luz con forma de ensayo en la lengua franca de la sociedad de la información, el inglés. Guiar, manipular, interpretar, filtrar, condicionar, orientar, mediar, priorizar, jerarquizar… todo lo que trato de combatir sin éxito alguno, demasiado poder, hasta para un amigo.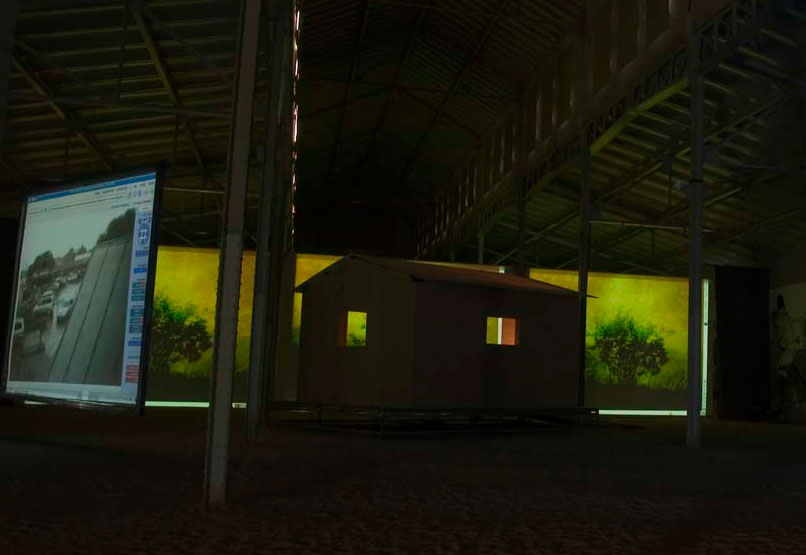 by Álvaro de los Ángeles, 2006 Arcades first appeared in Paris in the first third of the nineteenth century and became increasingly commonplace, as Walter Benjamin points out, with the growth of the textile trade, which marked the beginning of a hitherto unknown relationship between the inhabitant as a customer/buyer (user) and the city. Glass, iron, overhead light and artificial lighting -"The arcades were the setting for the first gas lighting,"' wrote Benjamin- covered entire blocks of buildings. This new architectural concept was in keeping with the period of change and the industrial revolution it formed part of. However, it also represented the ubiquity of a city inside a larger city, a clear attempt to create a "new" world inside a known one, while evoking the ideals of progress and well-being, albeit founded on a virtual idea, unreal or unattainable, that the physical and tangible world no longer seemed capable of generating or achieving.
[Essay] Jacob Lillemose fortæller i dette essay om Daniel Garcia Andújars installation X-Devian. The New Technologies To The People System og om baggrunden for dette værk Af Jacob Lillemose Foto: Århus Kunstbygning
Udstillingen X-Devian. The New Technologies To The People System blev vist i Ã…rhus Kunstbygning fra 12. maj til 10. juni 2007 www.aarhuskunstbygning.dk
Udstillingsbillede fra Ã…rhus Kunstbygning
The New Technologies To The People® System By Jacob Lillemose In 1999, when the art and technology festival Ars Electronica awarded The Golden Nica, first prize in the ".net" category, to the programmer Linus Torvalds for his development of the Linux operating system, it was pointing in general to the relationship between free software and art, and more specifically to the affinity between free software and that part of contemporary art which is concerned with software's constantly increasing influence on social, economic and political conditions. Like Linux, this part of contemporary art works against the proprietary software industry's standardization, repression and rationalization of the software culture, and instead explores alternate possibilities for freeing the software culture through more open, expressive and speculative processes. On a more indirect level, Ars Electronica's choice of Linux also emphasized another relationship between free software and this contemporary art, i.e. the idea informing both that software is not just a question of programming, but of producing culture - of understanding and using technology as a means of engaging in a social context. According to the founder of the Free Software Foundation (FSF) Richard Stallman, free software is about "practical material advantages" but also about "what kind of society we want to live in, and what constitutes a good society". 1 Stallman himself imagines an extremely collective and creative society founded on the freedom to "use, study, copy, modify and redistribute software". For him, the free software's fundamental abolishment of intellectual property rights represents a chance to structurally and conceptually "reprogram" society for the better, and this is an opinion he shares with much of contemporary art.
1998/2006 Website with linked images www.irational.org/tttp/Crypto/armed1.html Presented in the exhibition with large-format DVD slide projection and Folder Presented in the exhibition as an upgrade of almost 100 images, the internet project Armed Citizen shows a series of 17 small arms. No information is
F. S. - Madrid - 30/04/2006 El País El 9º Festival Internacional de Fotografía y Artes Visuales, que se celebrará en Madrid del 1 de junio al 23 de julio, presentará 63 exposiciones de 375 artistas y creadores de 33 nacionalidades, en torno al tema de la naturaleza, entre los que figuran Olafur Eliasson, Ramón Masats, Karl Blossfeldt, Cristóbal Hara y Joel Sternfeld. El festival se extenderá a Toledo, con varias muestras; en Aranjuez se celebrarán unas jornadas, con clases de Hiroshi Sugimoto, y se rendirá homenaje a la cineasta Agnès Varda. Las relaciones entre cultura y naturaleza es el tema propuesto por Horacio Fernández para la próxima edición de PhotoEspaña 2006 (www.phedigital.com), que cierra un ciclo como comisario general tras las anteriores dedicadas a la ciudad y a la historia. Las propuestas de los fotógrafos y artistas visuales se acercarán a una "reinterpretación del concepto de paisaje", en donde intervienen "la memoria y los conflictos en una historia compleja". Otras aportaciones se centrarán en el mundo rural, en un momento de cambio.
In May 2004 Susanne Jaschko gave a lecture on 'The Art of Hacking – or: Communication Guerrilla as Artistic Practice with New Media' and a presentation of selected video art pieces of last year's transmediale festival during which they discussed both the aesthetics and exhibition formats of the works Introduction In 1998 a 21 year old guy named ïto messed up the world of marketing by inventing a very unconventional marketing campaign for a Macintosh computer: the so called "hack- Mac".  This design for a computer cited a military look with camouflage pattern and a solid-defensive casing, thus looking like both a fancy accessoire and a possible weapon. Consequently, the campaign was made up with the obvious slogan "think weapon" in the original Apple Macintosh-fond and the apple motive in slightly darkened colours.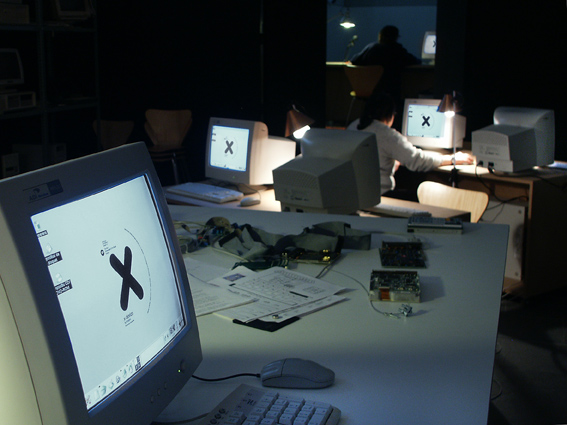 Espai Zer01 Olot El Espai Zero1 del Museu Comarcal de la Garrotxa lanza una atrevida apuesta con su ciclo "Dimensions variables", que abre Daniel G. Andújar con una instalación que sorprende por su creatividad El proyecto cuestiona, mediante la parodia, un arte a la medida de las instituciones y del mercado Suplement Culturals. La Vanguardia MERY CUESTA Y ROC PARÉS - 28/01/2004 "Dimensions variables" es el título del ciclo recién inaugurado en el Espai Zero1 del Museu Comarcal de la Garrotxa en Olot. El ciclo está compuesto de dos exposiciones, la primera consagrada al valenciano Daniel G. Andújar y la siguiente, del andaluz Pedro G. Romero, que será inaugurada a finales de febrero. A la hora de diseñar el ciclo, los responsables de éste, David Santaeulà ria y Valentín Roma, se han ceñido a tres firmes propósitos: en primer lugar, tener en cuenta las particularidades de una ciudad como Olot y su condición periférica, pero también el incipiente germen activista existente en la ciudad (nos referimos en el caso de la exposición de G. Andújar al colectivo Olot Wireless). Por otro lado, los artistas seleccionados para "Dimensions variables" encajan en el perfil de lo que sus organizadores consideran "independientes", creadores que supuestamente trabajan al margen (o en los márgenes) de los intereses institucionales y ajenos (o acaso sólo críticos) a las órbitas expositivas comerciales. Por último, "Dimensions variables" tiene como objetivo la resistencia a la simplificación que conlleva la turistificación, un movimiento preocupante en la Garrotxa y tristemente paralelo a lo ocurrido desde el desarrollismo en la Costa Brava.
X-Devian. The New Technologies To The People System 2003- Social event in public space: production, promotion and distribution of FLOSS software and advertising video x-devian.org Presented with advertising video in the exhibition, and during the Irational Action Weekend in Dortmund Judging from the