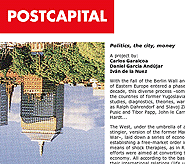 For someone who was "born" in terms of cultural awareness long after The Wall fell (I still remember when the pop music magazine I used to read would distribute a "free piece of the wall" with an "authenticity certificate" among its readers), the feeling of visiting Postcapital exhibition, a physical and virtual project hosted by Palau de la Virreina (Barcelona, Spain) between April 12th and September 25th, is that of a Natural History Museum. The postcapital concept has been developed by essayist and curator Iván de la Nuez to talk about the ensemble of phenomena regarding life after Communism and the decay of leftist ideologies that gave way to the omnipresence of Capitalism and its subsequent ravages.
Kafka's novels introduce us to creatures defined as "helpers". They do not, however, appear to be in any state to help. They understand nothing, they have no "tackle", they do nothing more than play childish, silly pranks, they are annoying and even at times brazen and lascivious. In aspect, they are so similar that they can only be distinguished by their names; they look like "serpents". They are, however, observant, alert and easygoing; they have shining eyes and in contrast to their childish behaviour, their faces are those of adults "students, almost" with long, bushy beards. Someone, we do not know who, has assigned them to their charges and they are not easy to get rid of. In conclusion, we do not know who they are. Perhaps they have been sent by the enemy, something that would explain why they do nothing more than dog us and and spy on us. However, they seem to be angels, messengers ignorant of the content of the letters that they must deliver, but messengers whose smile, whose look, whose gait "seems to be a message". Giorgio Agamben.
The physical space occupied by caS at Torneo 18/San Clemente is, to all intents and purposes, insufficient for what we understand art centre to be. To begin with, there is the symbolic dimension, the fact, for example, that it is located in Seville and that it aspires to depict the different present realities that the city evokes. Therefore, the knot/node metaphor, borrowed from the language of telematics, is perhaps that which is the most apt to define the situation of an artistic space in the city. It is, as it were, a principal node yet when all is said and done, it is just one more link, a single point in the wider web of places and links that the arts centre must weave across the city. A recent academic document on the work concerning architecture and language for the Spanish Royal Academy (RAE) talked of an "openness towards the revision of the world of architecture, of the city, of town-planning and of their relationship with the immaterial elements of IT and telematics involved in the same city phenomenon". The Seville Arts Centre (caS) also aspires to become a public space in the ambit of the media, the Internet, in the immaterial world of electromagnetic signals.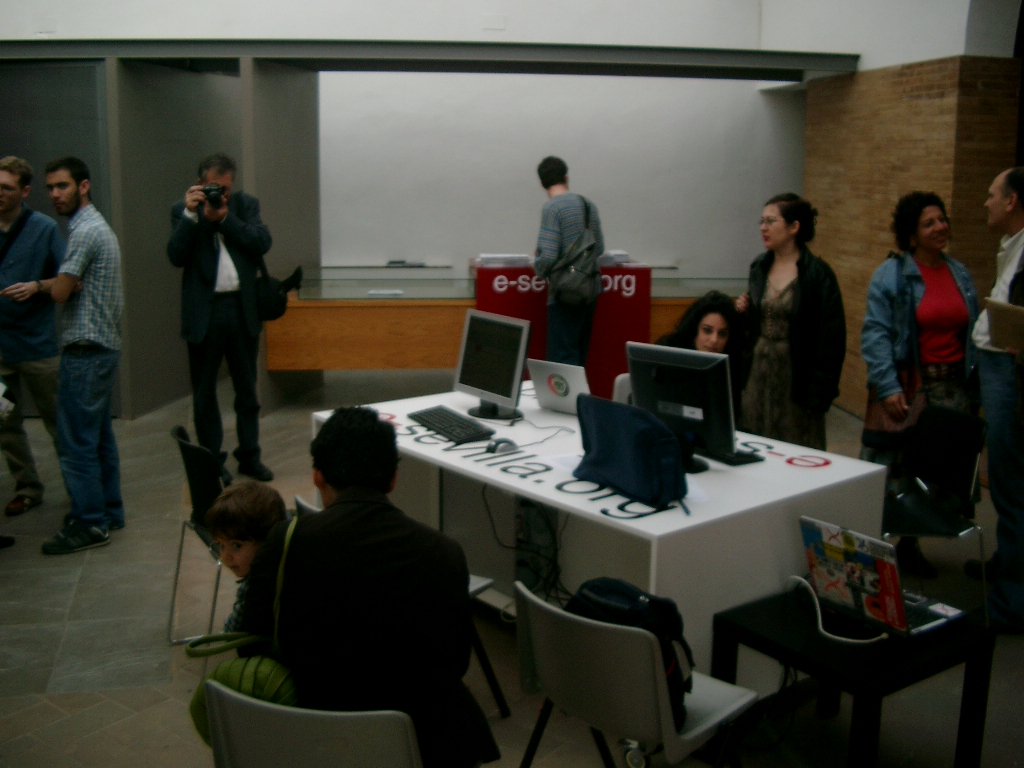 Por Pedro G. Romero En las novelas de Kafka nos salen al encuentro criaturas que se definen como "ayudantes". Sin embargo, no parecen estar en condiciones de prestar ayuda. No entienden nada, no tienen "aparatos", no hacen más que chiquilladas y tonterías, son molestos e, incluso, a veces, descarados y lascivos. En cuanto a su aspecto son tan parecidos entre sí que sólo se distinguen por el nombre; se parecen "como serpientes". No obstante son observadores atentos, desenvueltos y elocuentes, sus ojos son brillantes, y en contraste con sus modos pueriles, tienen caras que parecen adultas, "de estudiantes, casi", y barbas largas y abundantes. Alguien, no se sabe quién, se los ha asignado, y no es fácil quitárselos de encima. En definitiva, nosotros no sabemos quiénes son, quizás son enviados del enemigo, lo que explicaría por qué no hacen más que acechar y espiar. Sin embargo parecen ángeles, mensajeros que ignoran el contenido de las cartas que deben entregar, pero cuya sonrisa, cuya mirada, cuya manera de andar "semejan un mensaje." Giorgio Agamben. El espacio físico que ocupa el caS en la dirección de Torneo 18/San Clemente es, a todas luces, insuficiente a la hora de entender el trabajo de un centro de arte. Para empezar está la dimensión simbólica, aquella que, por ejemplo, le otorga el hecho de situarse en Sevilla, de aspirar a una representación de los distintos presentes que una ciudad invoca. Así, la metáfora del nodo, tomada del lenguaje de la telemática sea quizás la que más conviene para definir la situación de un espacio para las artes en la ciudad. Si se quiere, se trata de un nodo principal, pero al fin al cabo, un enlace más, un punto en la amplia red de lugares y vinculaciones que el centro de las artes de Sevilla debe tejer en la ciudad.
La idea de poner en marcha una herramienta que hiciese posible canalizar y a la vez expandir el debate mantenido por la "Plataforma para la Reflexión sobre Políticas Culturales" (PRPC) es algo que estaba presente desde antes incluso de que adoptáramos este nombre. Y desde un primer momento vimos en los "e-", impulsados por Technologies To The People en diferentes contextos locales, un modelo que se ajustaba en gran medida a nuestras necesidades. Con la puesta en marcha de e-sevilla-org pretendemos proporcionar un espacio permanente y abierto a un debate sobre las políticas culturales de la ciudad, gestado inicialmente a propósito de la BIACS, pero que se ha extendido hacia las prácticas artísticas y culturales en general y que busca implicar a todos los agentes relacionados con los diferentes ámbitos de la cultura.
The idea of setting up a tool which will both channel and extend the debate fostered by the PRPC ("Plataforma para la Reflexión sobre Políticas Culturales" – Platform for Reflection on Cultural Policies) was present even before we adopted that name. Right from the start, we saw the "e-", fomented in different local contexts by Technologies to the People, as a model that was largely adaptable to our needs. With the implementation of e-sevilla-org our aim is to provide a permanent open space for discussion of the city's cultural policies. Initially set up to serve BIACS, this subsequently expanded to address art and culture in general in an attempt to involve all those agents connected with culture in its different disciplines.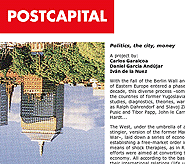 Para alguien que "nació" en términos de concienciación cultural mucho tiempo después de la caída del Muro (todavía recuerdo cuando la revista de música pop que leía de niña se puso a regalar un "trozo del muro" con "certificado de autenticidad" entre sus lectores), la sensación de visitar la exposición Postcapital, un proyecto físico y virtual que acoge el Palau de la Virreina (Barcelona, España) entre el 12 de abril y el 25 de septiembre, es la de un Museo de Historia Natural. El ensayista y curador Iván de la Nuez ha desarrollado el concepto de postcapital para hablar del conjunto de fenómenos relativos a la vida después del comunismo y a la decadencia de las ideologías de izquierdas que dio paso a la omnipresencia del capitalismo y sus estragos posteriores.
Al hilo de la celebración del Dia de Internet 2006, que este año tendrá un alcance iberoamericano, la Casa de América se suma a los actos previstos en torno al 17 de mayo y plantea la celebración de unas mesas redondas de reflexión en torno al fenómeno de los blogs en el sector cultural 16 de mayo: Blogs y escritura: hacia nuevos formatos de comunicación Basilio Baltasar, editor de El Boomeran(g) y Director de Relaciones Institucionales del Grupo Prisa. Jean-François Fogel, periodista y ensayista, fundador de la edición digital de Le Monde. Cristina Rivera Garza, escritora. Daniel Sánchez Arévalo, director de cine 23 de mayo: Blogs y arte digital Juan Martín Prada. Crítico de Arte. Especialista en nuevos lenguajes y nuevos medios de comunicación. Manuela Villa. Revista digital La Dinamo, colaboradora del EP3 y experta en arte emergente. Aitor Méndez. Diseñador y director, junto con el colectivo El Perro, del Blog digital sobre arte: 'Contraindicaciones'. Daniel García Andujar. Artista Digital. Creador del proyecto digital 'Tecnologies to the People' 24 de mayo: Blogs y propiedad/libertad intelectual Ganador del concurso al mejor blog del diadeinternet Cristina Civale, escritora y blogger Javier Candeira, especialista en Copyleft Miguel Pérez Subías, Presidente de AUI Miguel A. Cuesta, blogger Magda Bandera, escritora y periodista Todas las conferencias tendrán lugar en la Sala Bolívar
A-Desk.org Nº4 08 05 06 17 04 08 Sobre "Postcapital" (La Virreina, Barcelona) y "Malévich" (La Pedrera, Barcelona) DAVID G. TORRES Antes de la caída del muro de Berlín y su repercusión en la organización política del mundo, un anuncio de colonia recogía una frase del poeta surrealista Paul Eluard: "hay otros mundos, pero están en éste" (a la que, graciosamente, el anuncio añadía "hay otros hombres, pero están en ti"). Precisamente, tras la caída del muro la frase de Paul Eluard ha adquirido una resonancia que no tenía. Parece la premonición de un mundo cada día más igual, más plano, dominado por una visión turística, en definitiva, fruto de un proceso de globalización. Y, sin embargo, esa frase venía a expresar con cercana contundencia una de las bases de la antropología moderna: pensar en los otros es pensar en nosotros. Así la antropología ha podido subrayar su parentesco con la historiografía. Al fin y al cabo, el objeto es el mismo, pensar el aquí y el ahora, mirando en el espejo del allí y el antes.