JAVIER MARROQUÍ Artecontexto, Nº 19 / 2008 / 3 In Valencia we are always in the midst of a crisis, and I don't mean an economic one; although that, too, although it will never be acknowledged-but a cultural one. For years we have been subjected to a situation in which the institutions have seized control not only of cultural management but also of creation. I begin this way because I regard it as necessary to align ourselves with the Herramientas del arte. Relecturas [Tools of Art: Re-readings] project curated by Alvaro de los Ángeles, with the firm proposition of re-reading and reflecting again upon on the players in the art world and the perennially problematic relations amongst them. This is a customary activity of several producers who (still) work from Valencia. A need seems to be felt to begin to criticise what is going to be done, before anything is done. I regard this more as an inevitable attitude than as an obligatory stance. And it is only to recall that Alvaro de los Ángeles has been faithful to this critical spirit for years.
José Luis CLEMENTE, elcultural.es 24-30 Julio Herramientas del arte, Comisario: A. de los Ángeles. Sala Parpalló. Alboraia, 5. Valencia. Hasta el 30 de septiembre. ¿Cómo hacer una exposición sobre el cuestionamiento de la relación entre artista, institución, obra y público? ¿Cómo poner sobre la mesa estos aspectos sin dejar de mostrarlos y, por lo tanto, representarlos en el espacio físico de un museo o un centro de arte? ¿Es el arte contemporáneo, con sus numerosas aportaciones y confluencias con materias sociales como la política, la sociología, la antropología o los medios de comunicación…, el vehículo idóneo para entender mejor la sociedad contemporánea? Estas son algunas preguntas a las que da vueltas el proyecto Herramientas del arte. Relecturas, ideado por Álvaro de los Ángeles, y en el que participan Isidoro Valcárcel, Rogelio López Cuenca y Daniel G. Andujar. El proyecto tiene la pretensión de ir más allá de una simple exposición y convertirse en un foro de debate. Y es que, efectivamente, son demasiadas preguntas para poder ser respondidas en una exposición.
[gallery=34]
Una exposición -compuesta por montajes de Isidoro Valcárcel, Rogelio López y Daniel Andújar, en la que se pone en cuestión la labor del artista contemporáneo y sus roles dentro del entramado artístico y de la sociedad- se puede contemplar desde hoy hasta el 30 de septiembre en la Sala Parpalló de Valencia.
La muestra 'Herramientas del arte. Relecturas', comisariada por Alvaro de los Angeles, que recurre a recursos informáticos, fotografías, vídeos, CD-ROMS y otras nuevas tecnologías digitales,trata de cuestionar el arte contemporáneo con la sociedad y ofrecer una nueva relectura sobre la creatividad plástica.
Así la ha descrito en una conferencia de prensa el diputado de Cultura, Salvador Enguix, al que acompañaba el comisario, Alvaro de los Angeles, los artistas Isidoro Valcárcer, Rogelio López y Daniel Andujar y la directora de la Sala, Ana de Miguel.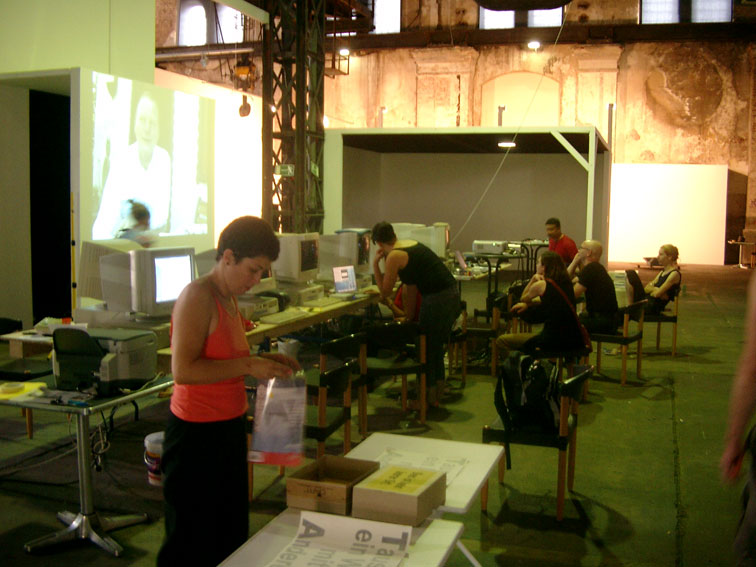 Herramientas del arte. Relecturas Encuentro/taller teórico-práctico dirigido por Daniel G. Andújar y Rogelio López Cuenca Departamento de Escultura, Facultad de Bellas Artes de Valencia 3, 4 y 5 de marzo de 2008 Herramientas del arte. Relecturas Un proyecto de Álvaro de los Ángeles con Isidoro Valcárcel Medina, Rogelio López Cuenca y Daniel García Andújar Sala Parpalló, junio-septiembre de 2008 El proyecto expositivo Herramientas del arte. Relecturas quiere ayudar a definir el concepto de herramienta en el arte contemporáneo planteándolo desde la noción de relectura, que aquí debemos entender como aquello que volvemos a leer, pero que no es tanto revisionismo como cuestionamiento, de nuevo, del propio medio. La intención es ubicarse en la fina línea que separa el arte de un número importante de materias sociales a las que acude en busca de base teórica sólida, de información que le sirva como puente entre campos de conocimiento o que simplemente emplea como motivo necesario que le distancie de la mera representación.