Psychoeconomy. The upcomming summit: Sevilla 2011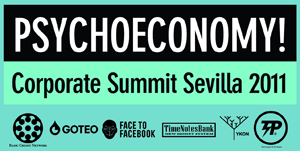 Since the last summit in Madrid in July 2010, nothing has improved. We are still confronted with the deepest economic and financial crisis since the Second World war, and now we must add a global crisis of political representation. This year, corporate leaders will meet again with a renewed goal: to write another declaration seeking to reverse the status of the global economy.
Participants:
Paolo Cirio. London
Basic Credit Network
www.p2pgiftcredit.com
www.paolocirio.net
Alessandro Ludovico. Bari
Face To Facebook
www.face-to-facebook.net
www.neural.it
Daniel G. Andújar. barcelona
Technologies To The People
www.tttp.org
www.danielandujar.org
Olivier Schulbaum. (Platoniq) Palma de Mallorca
Goteo
www.goteo.org
www.platoniq.net
gustavo romano. Madrid
Time Notes
www.timenoteshouse.org
www.gustavoromano.org
The Summit will be developed in sevilla between December 5th to 11st in the CAAC (Center of Contemporary Art of Andalucia)
December 2011
Monday 5th
Opening of the Information Spot at the CAAC.
Place: The psychoeconomy Container, near the Royal Pavilion
Thursday 8th
Morning:
Internal meeting.
Friday 9th
Morning:
Internal meeting.
Afternoon:
Public Opening of the Summit.
Presentations.
Presentation of the publication about the Madrid Summit 2010
Place: Royal Pavilion Auditorium
Saturday 10th
Morning:
Internal discussion and editing of the declaration.
Afternoon:
Presentation of the Declaration.
Round table.
Closing ceremony.
Place: Royal Pavilion Auditorium
Venues at:
CAAC (Centro Andaluz de Arte Contemporaneo)
Monasterio de la Cartuja de Santa María de Las Cuevas