Daniel G. Andújar Siguiendo el buen ejemplo de la sociedades capitalistas desarrolladas, la actividad terciaria, la prestación de servicios, se ha convertido en uno de los sectores clave de la economía de este país (España). Diría más, los servicios de ocio y turismo se han convertido en una necesidad, hasta el punto de convertirse en la principal fuente de divisas y en el motor económico que alimenta toda una nueva idiosincrasia. Es un papel en perfecta armonía con la fuerza dinámica de la economía global que asumimos de forma colectiva con cierto conformismo ¿Quién no se ha sentido alguna vez en este país, o ha ejercido directamente, de guía turístico o camarero? Nos viene en el DNI (Documento Nacional de Identidad). Nuestra disposición para el servicio es puesta a prueba con cierta periodicidad ya que en reiteradas ocasiones nos vemos obligados a ejercer de guías ocasionales para familiares, conocidos y amigos que vienen de visita y necesitan del perfecto anfitrión que los oriente por el complejo y fascinante mundo de la tapa, el flamenco, la paella, la cala, la ruina, el museo, la catedral, etc., según afinidades y naturaleza del visitante, guía y lugar en concreto. Nos convertimos en mediadores ocasionales filtrando de forma subjetiva la información que conforma parte de nuestra realidad más inmediata, y lo hacemos de forma automática, casi profesional, sin darnos cuenta, destilamos la realidad a nuestro antojo, de acuerdo a nuestras preferencias. Y cuento todo esto porque en una de estas jugadas, me vi 'obligado' a acompañar a una amiga investigadora hasta la capital del Reino, donde debería orientarla, fundamentalmente, en una investigación que estaba llevando a cabo en torno a la cultura del archivo y que pronto verá la luz con forma de ensayo en la lengua franca de la sociedad de la información, el inglés. Guiar, manipular, interpretar, filtrar, condicionar, orientar, mediar, priorizar, jerarquizar… todo lo que trato de combatir sin éxito alguno, demasiado poder, hasta para un amigo.
La creación en Internet propone la interactividad al espectador y diluye el concepto de la autoría FIETTA JARQUE 15/02/2001 El País Las nuevas tecnologías están transformando el modo de crear de los artistas y el modo de consumir arte. El espectador deja de ser la parte pasiva porque buena parte de las nuevas obras creadas para la Red proponen la interactividad. Los artistas que ponen sus trabajos en Internet, de alguna manera renuncian a los beneficios de la autoría. Los miembros del colectivo de netart La Societé Anonyme lo explican en su manifiesto: 'No somos artistas; tampoco, por supuesto, críticos. Somos productores, gente que produce. Tampoco somos autores, pensamos que cualquier idea de autoría ha quedado desbordada por la lógica de circulación de las ideas en las sociedades contemporáneas. (...) Nadie es autor: todo productor es una sociedad anónima, incluso diríamos: el producto de una sociedad anónima'. Este grupo de artistas es uno de los doce que se incluyen en la exposición Net.artmadrid.net, del Ayuntamiento de Madrid, que se presenta en Arco. José Luis Brea, comisario de la muestra, ha seleccionado obras que van desde lo formalista a lo teórico y de la acción social a una ciudad virtual en la que cada uno crea su propio habitante. Los artistas son dhijo, Marisa González, Martín, Juan Martín Prada, Rafael Lozano-Hemmer, Libres Para Siempre, La Societé Anonyme, Aitor Méndez, Ricardo Iglesias, Numo, Operario de Ideas y La Agencia. Se puede acceder a ellas a través de net.artmadrid.net.
by Inke Arns, Berlin, June 2000 <inke@snafu.de> written for Technologies to the People [d.i. Daniel Garcia Andujar], La sociedad informacional, catalogue, to be published in August 2000 [English / Spanish]
"I am not fond of manipulation, and I think you should not use it for political aims." (1) (Left-wing squatter in Berlin, April 2000) In 1996-1997 together with Ute Vorkoeper we organized and curated the international exhibition project discord. sabotage of realities (2) which took place in the Kunstverein and the Kunsthaus in Hamburg. The exhibition was part of the Hamburg Week of Visual Arts 1996, partly funded by the city's Cultural Office. Artists worldwide were invited to submit artistic concepts dealing with today's more and more un-peaceful political and social realities. The organizers received more than 500 concepts from 31 countries. The actual exibition discord was divided into six thematic zones focussing on control (security/insecurity), news services (disinformation), everyday (alienation), border politics (walking the tightrope), state machineries (law, discipline, repression), science fiction & economy (the administration of the future) and included an international selection of 34 artistic works most of which were premiered in the exhibition, and 26 additional artistic concepts from 18 countries.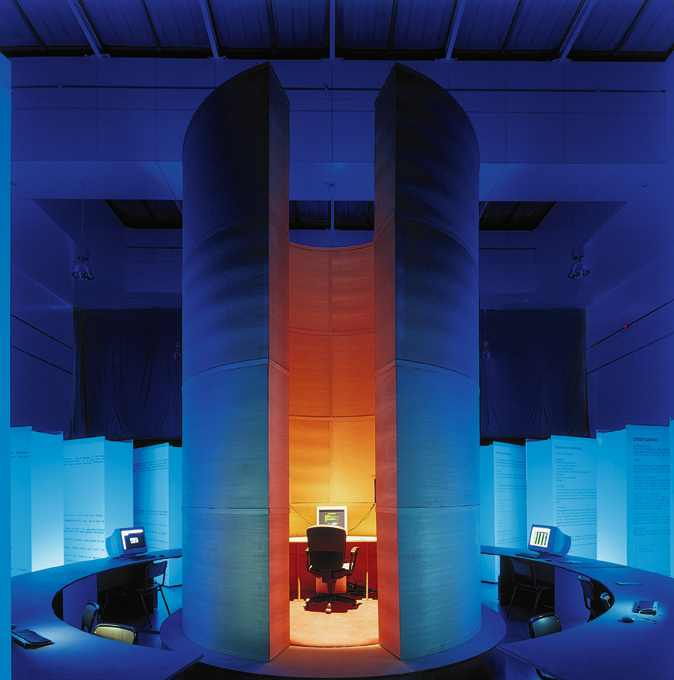 La primera producción del Museo de la Universidad de Alicante reúne dos reflexiones sobre el ser y la tecnología J. J. M. GALIANA 23/05/2000 El País Salvo aisladas excepciones en alguna que otra galería con tendencias suicidas, el arte más moderno que se puede ver en Alicante es el esplendor geométrico de Eusebio Sempere. El Museo de la Universidad de Alicante estrenó el pasado viernes su primera producción propia: las exposiciones La sociedad informacional, de Daniel G. Andújar, y El hogar de los milagros del cuerpo, de Mira Bernabeu. Ambas fueron concebidas especialmente para el museo universitario, que aspira a convertirse en el hogar del arte de vanguardia del que Alicante carece.Las dos exposiciones están separadas por un telón blanco. Si el visitante gira hacia la derecha, penetrará en el hogar construido por Mira Bernabeu. Allí encontrará una mirada hacia el lugar donde confluyen carne y espíritu, con fuerte dominio de verde, "un color neutro que simboliza ese tránsito entre lo material y lo espiritual", según el artista. La carnalidad de los habitantes subleva la propia carne y conduce a la zona interactiva y audiovisual de la casa.