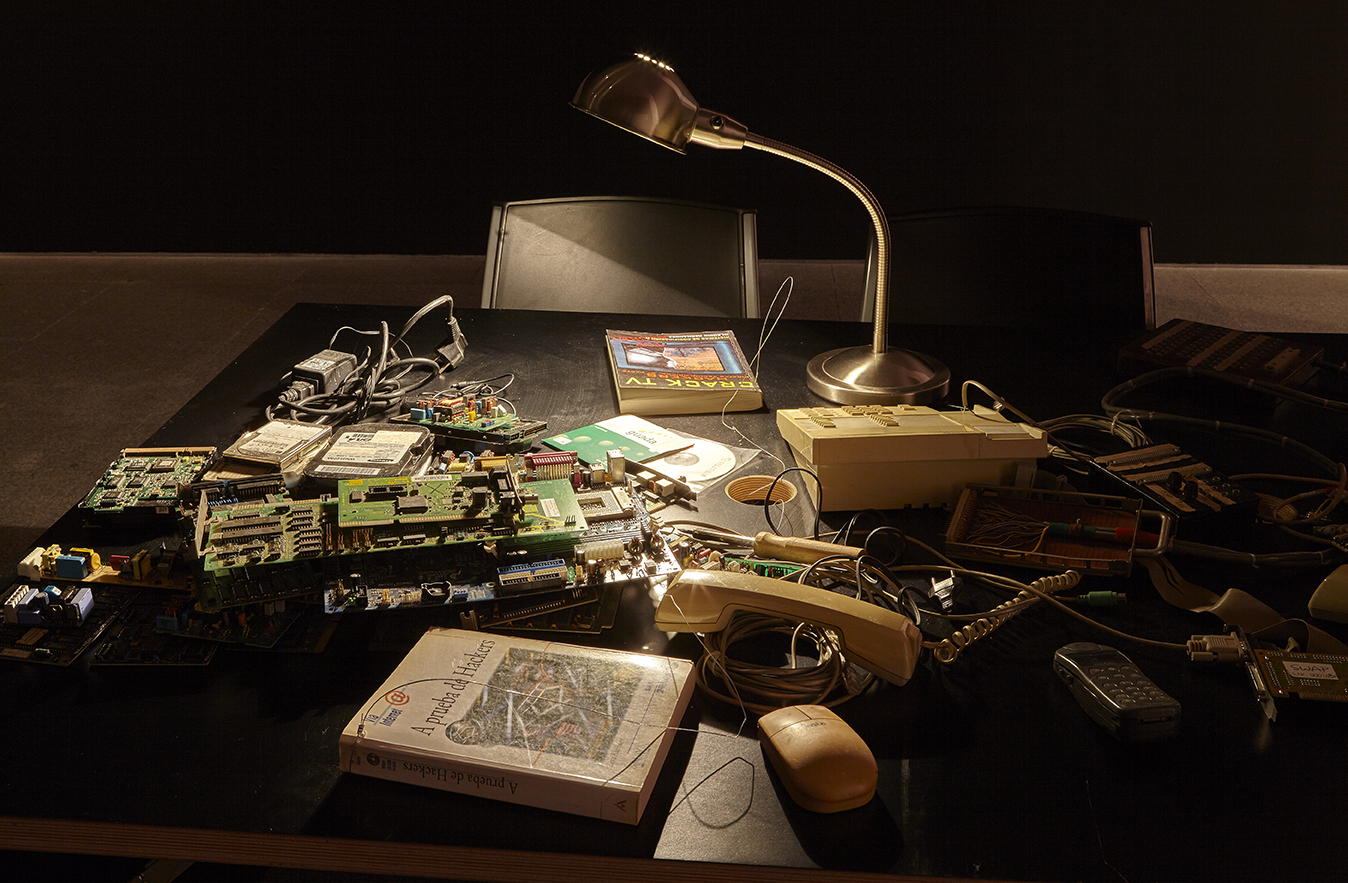 A*Desk 02 FEBRUARY 2015 JUANJO SANTOS The first solo exhibition of the year at the Museo Nacional Centro de Arte Reina Sofía is " Operating System", by Daniel García Andújar. A large selection of earlier works is being shown alongside new creations that continue to explore the link between new technologies and society, intervening between the public and the private. We talk with an artist who considers his work to be more collective than individual. Your exhibition could also have been called "Inoperative system". In fact I'm into these analogies, very black or white. I make a lot of references, as happened in "Postcapital", where I reduced language to colours, something symbolic but that is still there as part of the artistic language. In the artist's toolbox there are all the languages used during the history of art, it would be absurd not to use them. I make an almost reductive use in this type of analogy, in this case of red, white and black. I make these analogies, as in operating system, in order to establish parallels with the political system. In line with the language of hacking, there is an endeavour to seek out the failures of the system, through the bug, and once on the inside to improve or repair it; this search is for a more democratic system, for a much more horizontal system. Through the hole opened up by the bug enters exploit, the programme that can be damaging or beneficial. I work with this idea, in fact I always explain the paradox of the knife: If we film a scene with a close up, a certain type of lighting, use certain dramatic recourses of film and a knife appears, we think one thing. But if later a hand and Ferran Adrià appear, we'll be talking about cooking. Depending on how we use them, tools have one result or another. I'm in favour of a greater transparency and emancipation, and that what be criminalized be a bad use of this information. But they are criminalising or supervising us a priori, and don't let us function as an emancipated society. You mentioned there are errors in the system. Do you think the way to solve them is through the participation of society? Undoubtedly. When I began to develop these operating systems and software, I talked about an emancipated citizen in this sense. If instead of society as a shapeless mass we have individuals who are trained, with a good stock of educational and pedagogical culture, we'd have a better society. Here I draw a parallel with the Spanish empire of Philip II, when thanks to the printing press, the word, in this case of God, the Bible, begins to be disseminated. There is a wider access to certain information and its interpretation. It's there the developments began that led to the French Revolution, that first great emancipation of the bourgeoisie. I make an analogy with this huge divide that is currently forming, that ultimately is like a new social hierarchy, what in the 90's was called info-rich and info-poor. The digital divide is growing increasingly wider, adding to a divide that was already there.
JUANJO SANTOS
La primera exposición individual del año del Museo Nacional Centro de Arte Reina Sofía es "Sistema operativo", de Daniel García Andújar. Una gran selección de obras anteriores que se muestran junto a nuevas creaciones, que siguen indagando en el vínculo entre las nuevas tecnologías y la sociedad y la intervención de lo público y de lo privado. Hablamos con un artista que considera su trabajo como más colectivo que individual.
Tu exposición se podría haber llamado también "Sistema inoperativo".
En realidad soy mucho de estas analogías, muy de blanco o negro. Hago muchos guiños, como ya pasaba en "Postcapital", en el que reducía el lenguaje a los colores, algo muy simbólico pero que sigue estando ahí como parte del lenguaje artístico. En la caja de herramientas del artista están todos los lenguajes utilizados durante la historia del arte, sería absurdo no utilizarlos. Yo hago un uso casi reductor en este tipo de analogía, en este caso del rojo, el blanco y el negro. Y hago esas analogías, como con
sistema operativo
, también para establecer un paralelismo con el sistema político. Siguiendo el lenguaje hacker, hay un intento de buscar los fallos del sistema, a través del
bug
, para una vez dentro intentar mejorar o reparar el sistema; esa búsqueda de una sociedad más democrática, con un sistema mucho más horizontal.
Por el agujero abierto por el bug entra el exploit, el programa que puede dañar o beneficiar.
Trabajo con esa idea, de hecho siempre cuento la paradoja del cuchillo: Si grabamos una escena con un plano corto, un cierto tipo de iluminación, utilizamos ciertos recursos dramáticos del cine, y aparece un cuchillo, estamos pensando una cosa; pero si luego aparece una mano y Ferran Adrià, pues estaremos hablando de cocina. Dependiendo de cómo las utilicemos, las herramientas tienen un resultado u otro. Yo estoy a favor de una mayor transparencia y emancipación, y que lo que se criminalice sea el mal uso de esa información. Pero que a priori nos estén criminalizando o tutelando, no nos permite funcionar como sociedad emancipada.