Un encuentro/taller teórico-práctico de Technologies To The People
DIT. Do it Together. Workshop Series Un encuentro/taller teórico-práctico de Technologies To The People dirigido por Daniel G. Andújar.
Lugar de celebración:
AULABIERTA.
Facultad de Bellas Artes.
Fecha:
19 de mayo de 2008.
Horario:
12:30-15:30 / 17:00-20:00 hrs.
Inscripción:
Gratuita. Envía un mail a aaabierta@aaabierta.org con asunto "TTTP" y tus datos personales para obtener una acreditación de asistencia.
Objetivos
Su objetivo fundamental es forjar un diálogo estrecho entre los participantes que permita, desde la práctica artística, generar plataformas de reflexión en torno a nuevos procesos transformadores de nuestra realidad. Este encuentro/taller tiene como objetivo introducir a los asistentes en nuevos conceptos derivados de la introducción de nuevas tecnologías, la irrupción de Internet y el uso extensivo de la informática y la electrónica en la sociedad contemporánea.
Daniel G. Andújar Siguiendo el buen ejemplo de la sociedades capitalistas desarrolladas, la actividad terciaria, la prestación de servicios, se ha convertido en uno de los sectores clave de la economía de este país (España). Diría más, los servicios de ocio y turismo se han convertido en una necesidad, hasta el punto de convertirse en la principal fuente de divisas y en el motor económico que alimenta toda una nueva idiosincrasia. Es un papel en perfecta armonía con la fuerza dinámica de la economía global que asumimos de forma colectiva con cierto conformismo ¿Quién no se ha sentido alguna vez en este país, o ha ejercido directamente, de guía turístico o camarero? Nos viene en el DNI (Documento Nacional de Identidad). Nuestra disposición para el servicio es puesta a prueba con cierta periodicidad ya que en reiteradas ocasiones nos vemos obligados a ejercer de guías ocasionales para familiares, conocidos y amigos que vienen de visita y necesitan del perfecto anfitrión que los oriente por el complejo y fascinante mundo de la tapa, el flamenco, la paella, la cala, la ruina, el museo, la catedral, etc., según afinidades y naturaleza del visitante, guía y lugar en concreto. Nos convertimos en mediadores ocasionales filtrando de forma subjetiva la información que conforma parte de nuestra realidad más inmediata, y lo hacemos de forma automática, casi profesional, sin darnos cuenta, destilamos la realidad a nuestro antojo, de acuerdo a nuestras preferencias. Y cuento todo esto porque en una de estas jugadas, me vi 'obligado' a acompañar a una amiga investigadora hasta la capital del Reino, donde debería orientarla, fundamentalmente, en una investigación que estaba llevando a cabo en torno a la cultura del archivo y que pronto verá la luz con forma de ensayo en la lengua franca de la sociedad de la información, el inglés. Guiar, manipular, interpretar, filtrar, condicionar, orientar, mediar, priorizar, jerarquizar… todo lo que trato de combatir sin éxito alguno, demasiado poder, hasta para un amigo.
[Essay] Jacob Lillemose fortæller i dette essay om Daniel Garcia Andújars installation X-Devian. The New Technologies To The People System og om baggrunden for dette værk Af Jacob Lillemose Foto: Århus Kunstbygning
Udstillingen X-Devian. The New Technologies To The People System blev vist i Århus Kunstbygning fra 12. maj til 10. juni 2007 www.aarhuskunstbygning.dk
Udstillingsbillede fra Århus Kunstbygning
The New Technologies To The People® System By Jacob Lillemose In 1999, when the art and technology festival Ars Electronica awarded The Golden Nica, first prize in the ".net" category, to the programmer Linus Torvalds for his development of the Linux operating system, it was pointing in general to the relationship between free software and art, and more specifically to the affinity between free software and that part of contemporary art which is concerned with software's constantly increasing influence on social, economic and political conditions. Like Linux, this part of contemporary art works against the proprietary software industry's standardization, repression and rationalization of the software culture, and instead explores alternate possibilities for freeing the software culture through more open, expressive and speculative processes. On a more indirect level, Ars Electronica's choice of Linux also emphasized another relationship between free software and this contemporary art, i.e. the idea informing both that software is not just a question of programming, but of producing culture - of understanding and using technology as a means of engaging in a social context. According to the founder of the Free Software Foundation (FSF) Richard Stallman, free software is about "practical material advantages" but also about "what kind of society we want to live in, and what constitutes a good society". 1 Stallman himself imagines an extremely collective and creative society founded on the freedom to "use, study, copy, modify and redistribute software". For him, the free software's fundamental abolishment of intellectual property rights represents a chance to structurally and conceptually "reprogram" society for the better, and this is an opinion he shares with much of contemporary art.
Urbanitas miércoles, junio 15, 2005 Daniel G. Andújar (Valencia, 1966) centra el poder de su crítica en la necesaria recuperación del espacio público como un lugar desde el cual debe producirse la critica y el arte. Un espacio para que los ciudadanos debatan y produzcan nuevas herramientas capaces de conducirlos a un mejor nivel de vida. Y es que para el artista integrante del site activista www.irational.org (donde es compañero de travesía de la videoasta mexicana Minerva Cuevas) la recuperación de dicho lugar sobreviene una vez que se ha realizado un análisis sobre el sistema de control que padecen las sociedades mediátizadas que viven subyugadas bajo el peso de lo mercantil. El artista cuestiona, mediante la ironía y la utilización de estrategias de presentación de las nuevas tecnologías de la comunicación, las promesas democráticas e igualitarias de estos medios y critica la voluntad de control que esconden detrás de su aparente transparencia. En este proyecto, el artista crea una empresa virtual e inexistente, para la cual elabora una imagen corporativa diseñada al detalle (con sus correspondientes logotipos, videos promocionales y páginas Web) que se convierte en una metáfora del uso de las nuevas tecnologías, capaces de hacernos creer que es posible algo que no existe. La utilización prioritaria del inglés pone en evidencia que el lenguaje, al igual que la tecnología, tampoco es libre y es utilizado como forma de colonización del acceso a las nuevas tecnologías.
Basurama05  Talleres > Technologies to the people 25-29 abril
| | |
| --- | --- |
| | |
La informática y las nuevas tecnologías son, hoy en día, una de las energías más importantes que circulan por el mundo. Son una forma de poder, pero también de progreso y de cultura. La velocidad de su desarrollo es, probablemente, la más alta de cuántas se dan en cualquier fenómeno. Esa velocidad genera un proceso de uso-desecho-reemplazo que nos interesa mucho estudiar, no sólo desde el punto de vista económico sino también desde el punto de vista cultural. Crees que el acceso a un servidor es caro y complicado. ¿Porqué entonces no construir el tuyo propio?. ¿Porqué cambias de ordenador cada dos años, si tan sólo lo utilizas para Internet, enviar correo, escribir tus textos y, tal vez, para modificar alguna imagen?. Nuestros ordenadores de hace más de cinco años -los que tú has desechado- realizan todas esas tareas y algunas más complicadas como manejar ingentes bases de datos, servicios de servidor... sinceramente, creo que no te han contado parte de la historia.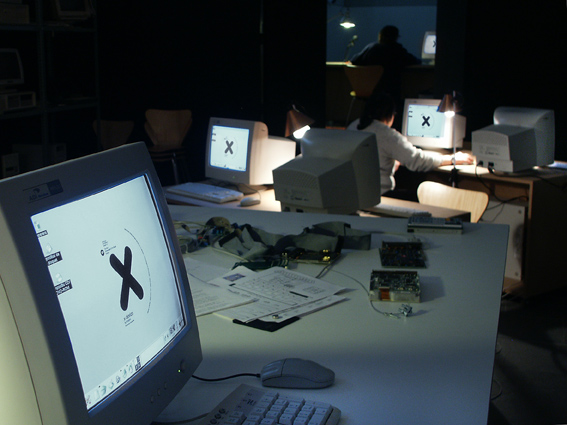 Espai Zer01 Olot El Espai Zero1 del Museu Comarcal de la Garrotxa lanza una atrevida apuesta con su ciclo "Dimensions variables", que abre Daniel G. Andújar con una instalación que sorprende por su creatividad El proyecto cuestiona, mediante la parodia, un arte a la medida de las instituciones y del mercado Suplement Culturals. La Vanguardia MERY CUESTA Y ROC PARÉS - 28/01/2004 "Dimensions variables" es el título del ciclo recién inaugurado en el Espai Zero1 del Museu Comarcal de la Garrotxa en Olot. El ciclo está compuesto de dos exposiciones, la primera consagrada al valenciano Daniel G. Andújar y la siguiente, del andaluz Pedro G. Romero, que será inaugurada a finales de febrero. A la hora de diseñar el ciclo, los responsables de éste, David Santaeulària y Valentín Roma, se han ceñido a tres firmes propósitos: en primer lugar, tener en cuenta las particularidades de una ciudad como Olot y su condición periférica, pero también el incipiente germen activista existente en la ciudad (nos referimos en el caso de la exposición de G. Andújar al colectivo Olot Wireless). Por otro lado, los artistas seleccionados para "Dimensions variables" encajan en el perfil de lo que sus organizadores consideran "independientes", creadores que supuestamente trabajan al margen (o en los márgenes) de los intereses institucionales y ajenos (o acaso sólo críticos) a las órbitas expositivas comerciales. Por último, "Dimensions variables" tiene como objetivo la resistencia a la simplificación que conlleva la turistificación, un movimiento preocupante en la Garrotxa y tristemente paralelo a lo ocurrido desde el desarrollismo en la Costa Brava.
X-Devian. The New Technologies To The People System 2003- Social event in public space: production, promotion and distribution of FLOSS software and advertising video x-devian.org Presented with advertising video in the exhibition, and during the Irational Action Weekend in Dortmund Judging from the aesthetics x-devian looks like your standard commercial proprietary software. With its minimalistic »X« and slogan reading »With over 150 innovative new features, it's like having an all-new computer«, the stylishly designed black-and-white cover effectively signals that this product means business — which it does. However, the content and not least the ethics of the product is explicitly opposed to the software culture promoted by neo-liberal corporations like Microsoft and Apple. As a bootable operating system (i. e. it does not need to be installed on your computer but can be run directly from the portable disk) based on GNU/Linux, x-devian is involved not in the business of capitalism but of free and shared culture. The system represents a comprehensive conceptual and practical reconfiguration of the economics of mainstream software culture. To use it, no investment in expensive software or hardware is necessary. Just insert the disk - which your can order for free at the X-Devian website - in your