Daniel G. Andújar
TECHNOLOGIES TO DE PEOPLE PHOTO COLLECTION (1997) Madrid, 14/09 - 16/11
El trabajo de Andújar cuestiona, mediante la ironía y la utilización de estrategias de presentación de las nuevas tecnologías de la comunicación, las promesas democráticas e igualitarias de estos medios y critica la voluntad de control que esconden detrás de su aparente transparencia. Partiendo de la constatación de que estas nuevas tecnologías están transformando nuestra experiencia cotidiana, creó en 1996 una ficción (Technologies To The People™) con el fin de hacernos tomar conciencia de la realidad que nos rodea y del engaño de unas promesas de libre elección que se convierten en nuevas formas de control y desigualdad. Andújar conecta también con ciertas líneas del arte conceptual que se relacionan con los medios y la tecnología de la cultura contemporánea y sus significaciones sociales, económicas y políticas; en una actuación doble: 1) analizando y criticando cómo los medios de comunicación y la tecnología procesan la información generando relaciones de poder y b) intentando, después, transformar estos medios en una herramienta para obtener poder. Los trabajos de Hans Haacke de principios de los años setenta y los de Muntadas desde mediados de la misma década hasta hoy son significativos ejemplos; lo mismo sucede con la obra de artistas como Cildo Meireles y David Lamelas, el "arte de los medios masivos de comunicación" anunciado por Roberto Jacoby, Eduardo Costa y Raúl Escari o el grupo Tucumán Arde.
Ways of Working.  Conversation by Iris Dressler and Daniel G. Andújar (eng) Procedure di lavoro. Iris Dressler, Daniel G. Andújar (ita) Formas de trabajar. Iris Dressler, Daniel G. Andújar (esp) Hacking the Interfaces of Access Culture and Envisioning the Literacy of the Post-Capitalistic Future: On The Installation Works by Technologies To The People/Daniel G. Andújar Jacob Lillemose (eng) Hackerare le interfacce della cultura dell'accesso e immaginare l'alfabetizzazione del futuro post-capitalistico: le installazioni di Technologies To The People/Daniel G. Andújar Jacob Lillemose (ita) Hackeando las interfaces de la cultura del acceso libre y prefigurando la alfabetización del futuro post-capitalista: sobre Technologies To The People/las instalaciones de Daniel G. Andújar Jacob Lillemose (esp) Artistic Intervention Practices Interview with Daniel G. Andújar. ALICIA MURRÍA. Artecontexto (eng) Prácticas artísticas de intervención. Entrevista con Daniel G. Andújar. ALICIA MURRÍA. Artecontexto (esp) L'arxivista de les ciutats del futur Lucia Lijtmaer (cat) Dijital Sanatlar: Sosyal İçerik ve 'Postkapital' Didem Yazici (tr) Daniel_G. Andujar by Nathalie Boseul Shin artinculture New Decade Hot Artist 2010 (kr) Artivistic approaches to the treatment of online information LAURA BAIGORRI Technologies To The People (eng) Aproximaciones artivistas al tratamiento de la información online. LAURA BAIGORRI Technologies To The People (esp) Anna Kournikova Deleted By Memeright Trusted System - Art in the Age of Intellectual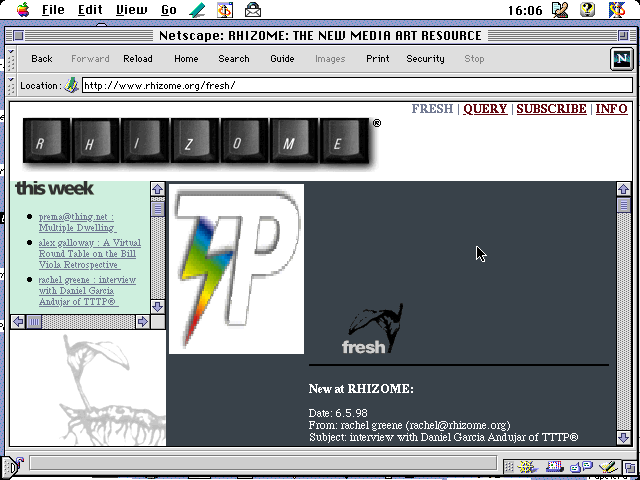 Rachel Greene Rhizome.org, NYC RHIZOME_RAW: interview with Daniel Garcia Andujar of TTTP® May 1998 Daniel Garcia Andujar an artist from Valencia, Spain. His current project is Technologies To the People®, though he has worked as an artist in other genres such as video, photography, urban intervention and installation. http://www.irational.org/daniel/ + + + RG: Explain Technologies To the People®. Why form an organization? DGA: I feel like right now there's a real fetishization of the new technologies, but I don't know about the kind of access people really have to them. There's the idea that this is a democratic space and every body comes here onto an equal playing field… I don't see it. I think that Technologies To the People® problematizes and widens the image of technological access, and questions and rethinks the related problems. It's a metaphor -- "all the people are connected" -- while also acting as a public provocation. Today, increasingly, to have access to information and resources, it's necessary to have connectivity. Who has real access to the technology? Will a new division be opened between "inforich" and "infopoor" people? How can we avoid this abyss of separation? Are we at the beginning to a new global colonization? How could it affect us in the future? What can we do to include more "classes of people" in the new information global infrastructure? These are issues that TTTP® tries to make obvious: virtuality, authenticity, copyright, sponsoring, media, power.