Avui 3-06-2004 PILAR PARCERISAS Art en una altra dimensió: Olot ha creat l'Espai ZERO1 d'art contemporani, annex al Museu Comarcal de la Garrotxa, una mena d'observatori sobre les noves pràctiques de l'art, sovint en dissensió amb l'art entès com a disciplina específica, creadora d'objectes artístics, una iniciativa pública que compta amb molt pocs paral·lels al territori si descomptem l'impuls que dóna la Fundació Espais de Girona a projectes d'aquest tipus. Per això, el cicle Dimensions variables, que han engegat enguany David Santaeulària i Valentín Roma, ha acollit dues propostes especials en aquesta direcció: Individual-Citizen Republic ProjectTM: El Sistema, de Daniel García Andújar, i el projecte Lo viejo y lo nuevo. ¿Qué hay de nuevo, viejo?, de Pedro G. Romero, que s'acaba de cloure.
Daniel G. Andújar. Individual Citizen Republic Project: EL SISTEMA. Technologies To The People - Espai ZER01, Olot, diciembre 2003 - febrero 2004
La cita que antecede a los
Comentarios sobre la Sociedad del Espectáculo
, de Guy Debord, bien podría tomarse como una de las claves en la estrategia de la resistencia, fuera ésta del tipo que fuere y se activara frente al sistema político que aconteciera en un momento histórico preciso. Extraída de
El arte de la guerra
, de Sun Tse, el pequeño párrafo comienza: "Por muy críticas que sean la situación y las circunstancias en que os encontréis, no desesperéis.", y concluye "cuando se está sin ningún recurso, hay que contar con todos los recursos; cuando se ha sido sorprendido, hay que sorprender al enemigo" [
En DEBORD, G.: Comentarios sobre la sociedad del espectáculo. Anagrama, Col. Argumentos. Barcelona 1990-1999. El contenido de El arte de la guerra de SUN TSE, varía dependiendo de la traducción. Una versión íntegra puede encontrarse en www.weblioteca.com.ar/oriental/artwar.htm.
]. Con frecuencia aparece escrito o se anuncia que "el arte de la guerra es el arte de la vida" y, en efecto, el libro del general chino Sun Tse, si bien adoctrina sobre las formas en que debe plantearse un ataque, preparar una retaguardia, cómo analizar los puntos débiles propios y ajenos antes de enfrentarse al enemigo o estudiar las características del terreno adonde tendrá lugar la batalla, entre otros muchos datos expuestos como consejos, conforma asimismo una gran metáfora que puede ser entendida como una manera inteligente de sobrevivir a (o afrontar) determinadas circunstancias de la vida, sean éstas personales, profesionales, políticas o ideológicas. Por descontado, esta cita (y por extensión el texto completo, que llegó a Europa durante la Revolución Francesa) es fácilmente analizable desde una perspectiva muy concreta precisamente porque en este caso anticipa o introduce otra obra (la de Debord) que basa su filosofía en analizar concienzudamente al contrincante para jugarle con sus mismas armas o, al menos, para tratar de desarmarle con sus propios argumentos. El contrincante de Debord y del situacionismo en pleno fue precisamente el uso espectacular de la cultura, su manipulación e instrumentalización política por parte de los encargados de gestionarla, producirla o difundirla, siendo su cometido principal la denuncia sin paliativos, abiertamente crítica, siempre respaldada por la solidez de un discurso rico en matices y pormenorizadamente elaborado. Este posicionamiento, ya convertido en un clásico de la crítica razonada, teniendo como tiene plena vigencia se ha quedado reducido, sin embargo, a frugal aperitivo de unos manjares que, hoy por hoy, nos han llevado a una salvaje bulimia de lo espectacular. Puesto que la concepción de lo espectacular no ha dejado de agravarse dentro de las políticas culturales desenvueltas o surgidas desde entonces, los textos situacionistas (si bien con las limitaciones temporales lógicas) adquieren un poder casi profético.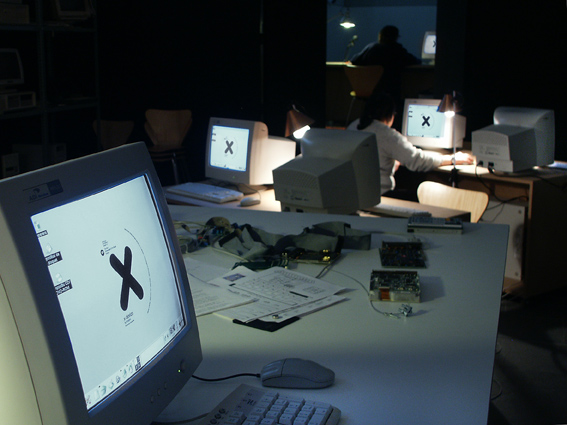 Espai Zer01 Olot El Espai Zero1 del Museu Comarcal de la Garrotxa lanza una atrevida apuesta con su ciclo "Dimensions variables", que abre Daniel G. Andújar con una instalación que sorprende por su creatividad El proyecto cuestiona, mediante la parodia, un arte a la medida de las instituciones y del mercado Suplement Culturals. La Vanguardia MERY CUESTA Y ROC PARÉS - 28/01/2004 "Dimensions variables" es el título del ciclo recién inaugurado en el Espai Zero1 del Museu Comarcal de la Garrotxa en Olot. El ciclo está compuesto de dos exposiciones, la primera consagrada al valenciano Daniel G. Andújar y la siguiente, del andaluz Pedro G. Romero, que será inaugurada a finales de febrero. A la hora de diseñar el ciclo, los responsables de éste, David Santaeulària y Valentín Roma, se han ceñido a tres firmes propósitos: en primer lugar, tener en cuenta las particularidades de una ciudad como Olot y su condición periférica, pero también el incipiente germen activista existente en la ciudad (nos referimos en el caso de la exposición de G. Andújar al colectivo Olot Wireless). Por otro lado, los artistas seleccionados para "Dimensions variables" encajan en el perfil de lo que sus organizadores consideran "independientes", creadores que supuestamente trabajan al margen (o en los márgenes) de los intereses institucionales y ajenos (o acaso sólo críticos) a las órbitas expositivas comerciales. Por último, "Dimensions variables" tiene como objetivo la resistencia a la simplificación que conlleva la turistificación, un movimiento preocupante en la Garrotxa y tristemente paralelo a lo ocurrido desde el desarrollismo en la Costa Brava.