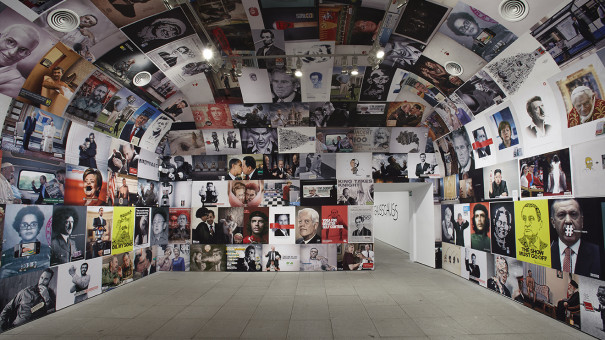 Sistema operativo
Museo Reina Sofía. San Isabel, 52, Madrid. Hasta el 4 de mayo.
SERGIO RUBIRA | 0/01/2015 |  Edición impresa elcultural.es
En 1743, William Hogarth realizaba un grabado titulado The Battle of the Pictures, con la intención de utilizarlo como billete para una subasta de sus series más conocidas, El progreso del libertino, La carrera de la prostituta, o El matrimonio a la moda. Todas ellas tenían una intención moralizante que estaba sometida a los ideales de una burguesía que pugnaba por imponerse. No fue una subasta demasiado exitosa, a pesar de que Hogarth era un artista muy respetado entre los círculos intelectuales y políticos progresistas londinenses.
Sin embargo, esta Batalla de los cuadros, como podría traducirse el título, era una afirmación artística en la que criticaba la forma en que se comercializaba el arte, la multiplicación de las falsificaciones y la abundancia de pinturas con asuntos religiosos y mitológicos ajenos al presente. Era una guerra en la que las obras de Hogath eran derrotadas, siendo atravesadas por representaciones de santos y dioses que las rajaban con sus cantos.
No obstante, también cabría la posibilidad de que el título se tradujese como laBatalla de las imágenes, actualizando su significación al hacerlo literal, como sucede en la individual que el Museo Reina Sofía dedica a Daniel García Andújar(Almoradí, Alicante, 1966). Es uno de esos artistas españoles fundamentales a los que el museo empieza a prestar atención y reconocer la importancia que tienen, aunque todavía les queda mucho por hacer. En la muestra, la estampa de Hogarth, o más bien, una reedición del siglo XIX, se convierte en un elemento central, especialmente "por lo que supone de declaración de principios", afirma Manuel Borja-Villel, director de la institución y comisario de la exposición.
La producción de García Andújar, que se basa en las nuevas tecnologías, tiene mucho de lucha por una aproximación crítica a las imágenes, tanto a las del pasado como a las que se generan en la sociedad actual, occidental y "desarrollada", con lo que este último concepto tiene de perverso. Apropiándose de estas imágenes en sus proyectos y sacándolas de contexto, el artista presenta a una sociedad con sobreabundancia de datos y plantea cómo se hace necesario aprender a leerlos. Sus trabajos para la red, vídeos o instalaciones evidencian que hay que establecer criterios que permitan seleccionar, ordenar e interpretar estos datos y buscar lo que se ha ocultado entre líneas y dejado en los márgenes. Señala que la información no debe asumirse sin más porque está controlada.
Read more →