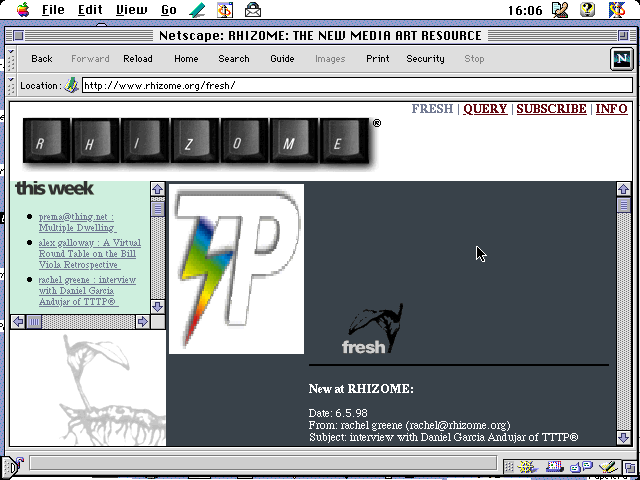 Rachel Greene
Rhizome.org, NYC
RHIZOME_RAW: interview with Daniel Garcia Andujar of TTTP®
May 1998
Daniel Garcia Andujar an artist from Valencia, Spain. His current project is Technologies To the People®, though he has worked as an artist in other genres such as video, photography, urban intervention and installation.
http://www.irational.org/daniel/
+ + +
RG: Explain Technologies To the People®. Why form an organization?
DGA: I feel like right now there's a real fetishization of the new technologies, but I don't know about the kind of access people really have to them. There's the idea that this is a democratic space and every body comes here onto an equal playing field… I don't see it. I think that Technologies To the People® problematizes and widens the image of technological access, and questions and rethinks the related problems. It's a metaphor — "all the people are connected" — while also acting as a public provocation. Today, increasingly, to have access to information and resources, it's necessary to have connectivity. Who has real access to the technology? Will a new division be opened between "inforich" and "infopoor" people? How can we avoid this abyss of separation? Are we at the beginning to a new global colonization? How could it affect us in the future? What can we do to include more "classes of people" in the new information global infrastructure? These are issues that TTTP® tries to make obvious: virtuality, authenticity, copyright, sponsoring, media, power.
Read more →